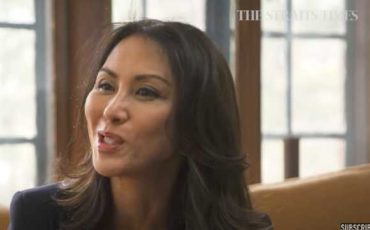 Nonetheless, Professor Amy Chua expressed optimism that that our founding ideals can unite us
A prominent Yale Law school professor spoke in a new interview with an English Singaporean news outlet about the danger of internal American divisions and her hope for unity based in Americans' founding principles and common humanity.
Journalist Nirmal Ghosh interviewed Yale Law School Professor Amy Chua (pictured) in an interview published June 6 in The Straits Times.
Chua popularized the term "Tiger Mom" to refer to strict parenting, helped J.D. Vance write his best-selling book, "Hillbilly Elegy," and tussled with the Yale administration in a 2021 controversy involving off-campus parties during COVID.
She was also "vilified," she said, for a July 2018 Wall Street Journal op-ed praising then-Supreme Court nominee Brett Kavanaugh for his mentorship of women.
When Ghosh asked about Chua's recent observations on her students and American life, she pointed to deepening divisions of several kinds: racial, ethnic, and ideological.
Her Yale students, like their peers at other top universities, are "largely cosmopolitan elites."
One of America's most serious divisions, "new in its intensity," is that between these elites, "people who view themselves as the height of tolerance" and include "all races" – and, on the other hand, "America's rural, working class, southern population," she said.
"The difference between these two groups now is so intense," Chua said, noting that they rarely positively engage with each other or even intermarry.
She also noted "vicious vitriol" in both directions – from those who denigrate white people as racists and oppressors and backlash from those who try to fight back.
America's Constitutional principles and our common humanity can unite us, Chua said
When Ghosh asked her what gave her hope or optimism that the U.S. can cohere, Chua spoke to the potential for unity in our founding principles.
"I always remain an optimist," she said. "I do believe that we have something special and secret, in that the U.S. identity is founded not on ethnicity or blood, or a certain nationality, but the U.S. Constitution, a set of principles."
Chua continued with several points:
"In theory, our national identity is ethnically and religiously neutral from the beginning."
"We never lived up to those ideals…but that foundational structure actually puts us in a better way, a better position to deal with all of these problems that arise from diversity."
Chua expressed concern that she now sees students dismissing that founding legacy.
"The scary thing that I see among the younger generation now [is] a real turning away from the founding story," she said.
"I have many many students, really bright, but they feel out of touch with the Constitution," she said. "They say, 'Oh, that document was just written by a bunch of old, white males who kept slaves, why should we listen to this?'"
However, Chua did note that students seem to want to debate and examine their own prejudices.
She cited as evidence the fact that though she herself is a polarizing and controversial figure whom one might expect students to avoid, her classes have the longest waitlists at Yale Law.
She made several other points:
"There's a silent majority that actually wants debate, they want to hear the other side, because that's what I'm committed to promoting."
"I say on day one, 'In this class, we will air our views. And if you hate something that someone said, don't go straight to thinking it was racist. Express your unhappiness, and we'll have a conversation.'"
Chua also cited evidence that when people can be brought together to discuss subjects they hold in common, they are less likely to regard each other as political enemies.
"All these studies – sociological, psychological – show that if you can just get people to interact on a one-on-one level, as individuals, before you know their political or global affiliation" — and you talk about neutral things they share in common – "if you can get people to talk at that level for a bit, first, and then you introduce their political affiliations, everything is so much better," Chua concluded.
MORE: INTERVIEW: Professor Chua talks defending herself against Yale administration
IMAGE: The Straits Times/YouTube
Like The College Fix on Facebook / Follow us on Twitter