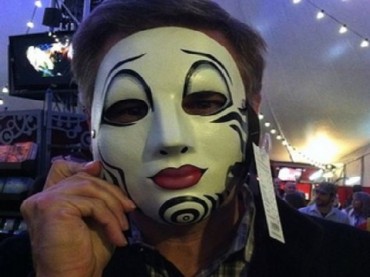 An undercover investigation at universities across Virginia last fall exposed an outright hostility by campus LGBTQ resource centers toward offering students with unwanted same-sex attraction information about ex-gay counseling, telling them such therapies wouldn't work, likening them to brainwashing, and warning if they tried them, they might get depressed and kill themselves.
Now the ex-gay group that led that undercover probe, Voice of the Voiceless, is taking its fight to the next level – using the threat of a viewpoint discrimination lawsuit to pressure the campuses to reform their LGBTQ resource centers.
"Increasingly, we have seen in the past few years, a bigger effort for gay activists to silence and marginalize our voices," Christopher Doyle, founder and president of Voice of the Voiceless, told The College Fix in an interview. "We've said enough is enough. We're tired of being smeared in the media, marginalized and made to look like our voices can't be heard."
Doyle's group defends the rights and reputations of former homosexuals, and it touts secular and Christian therapies that have successfully helped people with unwanted same-sex attractions.
His group, in partnership with the nonprofit litigation firm Liberty Counsel, is working with administrators this summer at the Virginia campuses that either failed to provide referrals for those seeking help for unwanted homosexual attraction, or admonished such therapies as pseudoscience or not effective.
"When you are getting state funding to provide resources for sexual minorities, you are obligated to offer all views on sexualities," Doyle said, adding not doing so is "viewpoint discrimination."
Doyle, 32, is a former homosexual. He and a colleague took part in the undercover investigation.
A campus climate report released by Doyle's group last month details the probe's findings, and accuses universities of creating "unsafe zones" for students with unwanted same-sex attractions.
The report, which includes video and audio from the undercover operation, proves how campuses such as the University of Virginia, James Madison University, George Mason University, Virginia Commonwealth University, Old Dominion University and the College of William and Mary suppressed and maligned resources donated to the LGBTQ Resource Center for students struggling with their same-sex attraction.
For example, at Old Dominion University, "the LGBTQ Resource Center staff said being gay was genetic, natural, and a part of your personality, and that therapy to help individuals who want to change is nothing but 'brain washing' attempts to 'pray away the gay' and 'not valid,'" according to the group.
"At George Mason University, I nearly begged the counselor to give me an ex-gay pamphlet, which was buried in the bottom drawer of his filing cabinet. At UVA, the resource center's director refused to show or give me an ex-gay pamphlet because he said he did not have enough of them to hand out. When I asked him where I could find scientific research on homosexuality, he referred me to theHuffington Post," Doyle added.
This despite the fact that Parents and Friends of Ex-Gays and Gays (PFOX) has sent its literature to these campuses for years.
All six universities named in the campus climate report declined to comment to The College Fix on the probe's findings or what they are doing to correct it. Doyle said only Virginia Commonwealth University has agreed to some reform efforts so far.
Doyle said most gay activists support the idea that change is not possible and that individuals with same-sex attractions need to identify themselves as homosexuals and embrace this quality.
Many activists and psychologists claim that individuals who try to change will become depressed and may even commit suicide; they refer to therapy from ex-gay groups as "conversion" or "reparation" therapy, which is not the intent of groups like Voice of the Voiceless, which provides help only to people who desire to counter their same-sex attraction.
Counselors at the universities visited by Voice of the Voiceless made similar statements, as documented in the organization's comprehensive investigative report.
"We're hoping to open up lines of communication this summer [with the other universities]… Whether or not that's going to happen … I'm not optimistic," Doyle said. "I think it's likely to go to a lawsuit."
Pro-homosexual advocates and other critics have claimed that the ex-gay movement is dying or is very weak, especially after the shutdown of Exodus International last year, a formerly prominent ex-gay group. But Doyle said he believes that the closure of Exodus International was a positive development because it allowed groups with better leadership to emerge, such as Hope for Wholeness and Voice of the Voiceless.
Doyle said his motivation to advocate for the cause of individuals with unwanted same-sex attraction arises from his own struggles.
Even at his conservative university, Grove City College, he did not have resources available to help him deal with his desires. After graduation, he moved to Washington, D.C., where he joined a church and began to participate in a men's group that began to help him find healing.
"Through that experience of being in an adult ministry with a men's Bible study, I… met eight or 10 other guys that really accepted and loved me like I had never received in my life before, and through those experiences, that really helped me heal from the desire to want to have sex with other guys," Doyle said.
Doyle has now been with his wife for eight years and has three children. He felt a calling to help people struggling with the same desires he had, and decided to receive his master's degree in counseling. He now counsels clients struggling with same-sexual attraction.
"We hope that through this initiative, other people will be inspired to do the same thing and… be outraged by what's happening on these college campuses," Doyle said.
Claire E. Healey is a recent graduate of Grove City College.
Like The College Fix on Facebook / Follow us on Twitter
IMAGE: TorbakHopper/Flickr