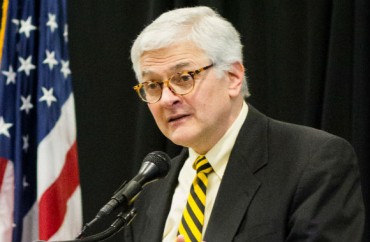 UPDATED
No explanation how university will pay for grad-student benefit spike
The former president of the University of Missouri System abruptly resigned in November to preempt a "Ferguson-like event" on the Columbia campus amid racial protests, he said in a "confidential email to a select few friends" made public Wednesday.
Tim Wolfe accused the four-campus system's board of curators and administrators of leadership failure and advancing personal agendas in the Jan. 19 message to supporters, while laying much of the blame for campus unrest on ousted Mizzou Chancellor R. Bowen Loftin.
In the email, obtained and publicized by university administrators, Wolfe also alleged a political maneuvering scheme by a Missouri state senator to keep a University of Missouri professor from running for attorney general.
Wolfe's accusations went viral hours before his and Loftin's successors delivered the annual State of the University address.
Though interim Chancellor Hank Foley announced a dramatically expanded campus police force and an increased graduate student stipend of $15,000, up from $3,000 – one of the causes of this fall's unrest – he did not offer his thoughts on Wolfe's leaked email or how the university would pay for the new benefits.
Foley expressed disdain for "distorted" coverage of Mizzou in the media, but stopped short of asking for more safe spaces from student journalists.
"We've had heated debates, and difficult dialogues," said Wolfe. "We've experienced protests and even resignations. Many of these events have unfolded in the public eye. In the traditional media and [as] well as the social media, often exacerbated, unfortunately, by distorted and misinformed storylines that do indeed play well.
"And you guys [the media] back there know what I mean," said Foley, motioning to where the media were standing.
Campus protest group Concerned Student 1950 had defended its decision to block media access to its protest staging grounds on a public area of campus following Wolfe's resignation by citing the "twisted insincere narratives" of the media.
To prevent 'injury and further embarrassment'
"My sudden decision to resign was largely motivated by a significant pending event that was to occur on the campus the day I resigned," wrote Wolfe in the email, according to the Columbia Daily Tribune.
"There was a threat that more were coming in for significant protest that day. So as to prevent injury and further embarrassment on our campus, the only way to relieve the pressure and stop the momentum was for me to resign."
A statement from Wolfe released Nov. 8 appeared to show that he remained committed to his post and made no mention of an intent to resign. But by the following morning, Wolfe had announced his resignation, which he said "came out of love, not hate," and asked the university to use his resignation to heal from racial tensions.
Official statement from @UMPrez/@umsystem: pic.twitter.com/XKBYCtEAa6

— Ashley Jost (@ajost) November 8, 2015
The looming threat of a $1 million fine, owing to the Mizzou football team's pledge not to play in an upcoming game unless Wolfe resigned, was assumed to be a major factor in his departure.
His successor could have stopped the upheaval early on
Wolfe says in the email that the FBI, Highway Patrol, city and campus police were aware of a "significant Ferguson protester," who was believed by officials to be traveling to participate with Mizzou protesters. According to Wolfe, the university brought "Diversity and Inclusion" experts from outside the university to look at the apparent threat of unrest.
The particular protester is unnamed in the email. DeRay McKesson, a prominent Black Lives Matter participant who was active in the unrest in Ferguson, had tweeted his support for Concerned Student 1950 and he arrived at the protest on Nov. 10, the day after Wolfe resigned. McKesson confirmed to the Columbia Missourian that other protesters were on their way to campus Nov. 9.
Mizzou students, we stand with you. You have reminded us all of the power of protest. ✊?.

The movement lives.#ConcernedStudent1950

— deray mckesson (@deray) November 9, 2015
The email reveals a deep distrust of the Board of Curators for the University System. Wolfe accused unnamed curators of using their roles to "dig up dirt" and "further personal agendas."
In the email Wolfe criticises the board's choice of his interim successor, Prof. Michael Middleton.
"The Board and Michael [Middleton] have to answer the following questions: Why did the Board of Curators decide to hire the leader who had failed miserable [sic] in his capacity as the long time leader on diversity issues on the MU Campus?" wrote Wolfe. Middleton previously served as vice provost for minority affairs and faculty development.
"Why did Michael Middleton choose not to stop the growing protest in spite of his relationship with [hunger strike protester] Jonathan Butler and the minority students on the MU campus?"
VIDEO: Former UM System President Tim Wolfe's email calls out the #MU Athletic Department: https://t.co/79P18nKe5l pic.twitter.com/pt5o5Ik9wV

— Andrew Kauffman (@A_Kauff) January 28, 2016
The email alleges political maneuvering by Missouri Sen. Kurt Schaefer, a Republican from Columbia, to try to get the university to deny Prof. Josh Hawley's requested leave of absence. Without it, Hawley would be unable to run for state attorney general.
Wolfe attacked ex-Chancellor Loftin for deflecting heated controversies to Wolfe, and for allegedly colluding with Schaefer, who Wolfe said shaped Loftin's testimony regarding a politically unpopular abortion license granted to the Columbia Planned Parenthood clinic.
The email hints at difficult times ahead for the University of Missouri, which has seen a dip in enrollment and donations as a result of student unrest and perceived lack of strong leadership at the university.
"In hindsight, the $1 million penalty associated with forfeiting the game against [Brigham Young University] would have paled in comparison to the more than $25 million in lost tuition and fees [Mizzou] will realize with reduced enrollment this Fall," wrote Wolfe. "It's also a pittance of the threatened loss of state funding that could be as much as $500 million."
UPDATE: More remarks from interim Chancellor Hank Foley's address have been added.
Like The College Fix on Facebook / Follow us on Twitter
IMAGE: Mark Schierbecker