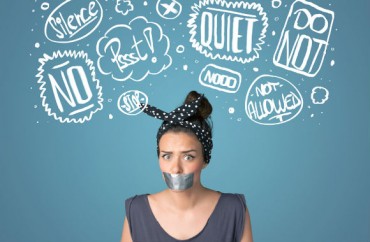 Congratulations, University of Oklahoma President David Boren!
Your unilateral expulsion of two fraternity leaders – and punishment the rest of the fraternity – for their racist chants on a bus is the capo di tutti capi among the Thomas Jefferson Center's 2016 "Muzzles."
The pro-free expression group named 50 colleges and universities on this year's list of the most censorious schools in 2015, from Brown, Duke and Harvard on the private side to Louisiana State University, University of Missouri and the entire University of California System on the public side.
That's more than quadruple the number of schools the center has awarded Muzzles in a given year, it said in debuting the list:
This year, however, we were compelled to take a different approach. Never in our 25 years of awarding the Jefferson Muzzles have we observed such an alarming concentration of anti-speech activity as we saw last year on college campuses across the country.
RELATED: Experts agree: University of Oklahoma can't legally expel racist frat boys
It credited Boren's legally dubious move as "a tipping point in the spread of anti-speech activity on campuses last year":
Imploring other administrators to adopt the same zero tolerance policy against racist speech, Boren vowed that OU would be "an example to the entire country of how to deal with this issue." Unfortunately, he was right.
The center categorized incidents by censorship of students (Boren at OU), censorship by students (Yale's Halloween email flap), "efforts to limit press access" (Mizzou's Melissa "Muscle" Click), threats to academic freedom (LSU's firing of a professor whose cussing is pedagogical), and censorship of "outside speakers" (many, many disinvitations and heckler's vetoes).
RELATED: U. of Oklahoma to punish 25 frat members for racist chant
To put a positive spin on this depressing list, the center also highlighted those few institutions that "actively pushed back against the tide of anti-speech sentiment in 2015," led by the University of Chicago for its free speech policy statement (emulated by American University, Princeton, Purdue and Winston-Salem State).
RELATED: Mizzou's Melissa Click grabbed another journalist's camera at racial protest
RELATED: University of Chicago releases sweeping free-speech statement
Like The College Fix on Facebook / Follow us on Twitter
IMAGE: Shutterstock