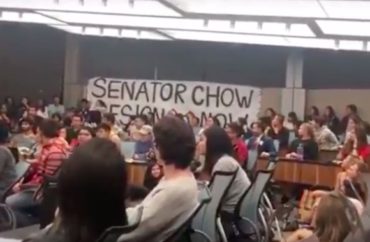 Targeted by LGBT group, students, newspaper, online critics
A Christian student senator at the University of California, Berkeley, is refusing to back down from her beliefs about marriage and sexuality even as she continues to weather intense backlash from her fellow students and others.
Isabella Chow, a senator with the Associated Students of the University of California, has faced withering criticism after abstaining from a vote on a student government bill that symbolically opposed the Trump administration's proposed changes to Title IX regarding the scientific definition of sex. Chow said she could not support the bill, The Daily Californian reported, "because she believes that God created man and woman, and that marriage should only be between a man and a woman."
In a phone interview with The College Fix, Chow stood by her position and her faith while simultaneously professing love and support towards all individuals, including LGBT students.
"From the bottom of my heart I was remembering my statements from last week and really being challenged to stand by what I said about loving others unconditionally no matter how they treat me and the Christian community, just like Jesus did," Chow said.
Chow told The Fix she is refusing to resign from her student government position. "If it weren't for my deeply held beliefs and a true love for my community and even for the LGBT people who have felt hurt by the church, I wouldn't be here otherwise," Chow said. "What has kept me going has been the prayers and encouragement."
"It's possible for me to disagree with how you choose to identify yourself and how you live your life. When I say I love you then I truly love you even though I may disagree with your beliefs and your decisions," Chow said.
"It's difficult to be defamed in such a light when I really did try to convey my beliefs in a compassionate and sensitive manner," she added.
A massive campus backlash
Chow has faced intense backlash over her position, with numerous individuals slamming her on social media (one commenter on Facebook called Chow a "mental imbecile") as well as in person. The response has been so hostile that Chow has made changes to how she gets around campus. "I don't feel safe walking alone to class and take precautions not to walk alone at night," Chow said.
Chow provided The Fix with multiple Internet postings openly accusing her of bigotry and hatred. One, from student senator Teddy Lake, said that Chow's Christian beliefs "were not beliefs at all— they were hateful prejudices that deserve nothing less than the strongest condemnation."
Several posts on the website Reddit were filled with angry comments. One commenter accused Chow of "sanctimonious holier-than-thou bullshit," and another said: "She's a horrible person."
The editors of The Daily Californian published an editorial calling for Chow's resignation, accusing her of "publicly dismissing the identities of individuals on campus" and "eras[ing] and dehuman[izing]" numerous Berkeley students.
"Chow used her powerful public platform to negate entire experiences and identities. UC Berkeley students cannot allow and accept leaders like Chow to make decisions on their behalf," the editors wrote.
The campus's Queer Alliance Resource Center, meanwhile, produced a statement in opposition to Chow.
"Her 'love' is no protection against the current oppression faced by trans, intersex, and non-binary individuals. Instead, her 'love' pads her condescending disapproval towards us and reminds us of our history of surviving so-called 'love.' Senator Chow's 'love' is not of warmth and compassion but of judgement and disapproval. We cannot sit idly by while Chow sits on moral high ground casting moral judgements," the statement reads.
The Center also produced a petition calling on Chow to resign.
In addition, Chow's political party, Student Action, also announced on Facebook that it was "part[ing] ways" with Chow "due to inconsistencies between her beliefs and the mission of Student Action."
'Speaking words of hate'
At a student senate meeting last week, numerous members of the Berkeley community publicly expressed their opinions, almost all of them explicitly critical of Chow.
"I condemn Isabella Chow's words, not because they're different from mine, but because they are dangerous, and inherently prejudiced. I encourage Senator Chow to reach a dialogue with queer-affirming Christian communities that LGBT existence is compatible with the love of God," one student said.
Another attendee said to Chow: "Your Christian morals should not be in our student government or for any government; and if you cannot separate your religion from your job as a senator, please resign."
Another accused Chow of "speaking words of hate, mashed under the name of love."
Chow eventually approached The Daily Californian asking if the publication would run either a statement or an op-ed by her. The Daily refused to publish either.
Chow subsequently published her statement on Facebook. "For me, to love another person does not mean that I silently concur when, at the bottom of my heart, I do not believe that your choices are right or the best for you as an individual," Chow wrote.
"Where this bill crosses the line for me is that I am asked to promote a choice of identities that I do not agree to be right or best for an individual, and to promote certain organizations that uphold values contrary to those of my community. After lengthy conversations with many of my community leaders and advisors, I have chosen to abstain from voting on these bills tonight," the statement continues.
"I again affirm with all my heart that each one of you in this room deserves nothing less than respect, acknowledgement, legal protection, and love, no matter your beliefs. I humbly ask you that you extend this same respect and acknowledgement to my community as we continue this dialogue together."
Chow told The College Fix that she hopes this controversy leads to better understanding between various communities.
"What I really pray happens through this is that the church at Berkeley and beyond communicate about the intersections between faith and the LGBTQ community; we need each other more so because of our differences," said Chow.
"We must dialogue with people outside of the church about this and speak with our actions more than our words. And we must speak for people who have been overlooked from the church for too long."
The Queer Alliance Resource Center, the student government president and vice president, and the university itself all did not respond to requests for comment from The College Fix.
MORE: Christian group put on probation after asking bisexual Bible leader to resign
MORE: Iowa Christian club refuses to back down
IMAGE: CalTV / Youtube.com
Like The College Fix on Facebook / Follow us on Twitter