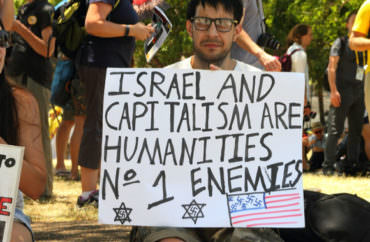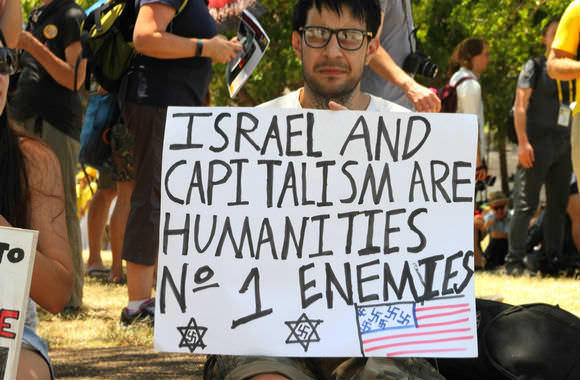 China imprisons a million Muslims. Should we end that program too?
Pitzer College faculty voted four-to-one to call for the suspension of its study-abroad program with Israel's Haifa University last month.
In response, the president of the southern California private college has accused faculty of a "repudiation of our educational mission."
Melvin Oliver read a statement at the Pitzer College Council last week, saying the arguments he's heard for the motion "show little or no consideration for our educational objectives and mission":
To deny Pitzer students who want to study at Haifa University the opportunity to study abroad and to enter into dialogue and promote intercultural understanding at the altar of political considerations is anathema to Pitzer's core values. If the suspension of the Haifa University program becomes a reality, this will be paltry support for the cause of Palestinian rights and a major blow to the reputation and reality of Pitzer College as a scholarly institution committed to its stated values of intercultural understanding and the ability of students to pursue their vision of educational engagement.
He reminded faculty that the immediate justification for the vote – Israel denying entry to an American graduate student for her support of the anti-Israel boycott, divestment and sanctions movement – was negated when the Israeli Supreme Court overturned the denial.
Consider the optics of preventing Pitzer students from studying in a country that recognizes "individual political beliefs and the right to enter into Israeli society," while the Trump administration denies entry to "Muslims from various countries," Oliver continued.
"Are we ready to have other colleges and universities ban their students from attending Pitzer College because of our national immigration laws?" he said.
Faculty are also singling out Israel when Pitzer and "every college in the country" continues study-abroad programs with human-rights violators such as China, which has "utterly obliterated the Tibetan nation" and imprisons a million Muslims in "re-education camps":
Why would we not suspend our program with China? Or take our longest standing program in Nepal where the Pitzer in Nepal program has been run for over 40 years. During that time they have had a bloody civil war that killed 19,000 people. Why Israel?
The faculty motion gives the impression that Pitzer, a member of the Claremont Consortium, is an "illiberal place" and alienates both "Jewish and non-Jewish constituents" who are crucial to Pitzer's success, he said. "We do not have the luxury of isolating ourselves" and must deal with the "consequences" of harming Pitzer's ability to obtain "research funding and innovative academic programming."
It's also historically ignorant, Oliver continued, because many of Pitzer's founding faculty were Jewish at a time when the Claremont Consortium had few Jewish faculty. Two of its founding faculty, in fact, were refugees from Nazi Germany.
The president concluded:
I want Pitzer College to continue to be known for its appreciation of diverse political and social views. An institution where we attempt to understand social, economic, and political problems through the lens of intercultural understanding and where we engage with different communities, not superficially, but with depth and real critical appreciation. To do that we need to reject this restriction and double down on our engagement with communities we disagree with, whose political systems we decry, and where discrimination and bias are endemic.
"I find the outcome of the discussion to be a repudiation of our educational mission," said @pitzercollege president Melvin Oliver. https://t.co/1Tv0En1iGn #BDS

— Jewish News Syndicate (@JNS_org) November 30, 2018
Anti-Israel motion leader sent 'aggressive' and 'bullying' messages to colleague
The Claremont Independent covered the council meeting, reporting that student senators who introduced a resolution condemning the motion in the Student Senate also addressed the council.
Isaiah Kramer warned that the faculty decision will backfire on students, who not only won't be able to study in Israel but will be branded by employers as alumni of "the school that hates Israel." It also threatens to erode donor support, he said. Claire Wengrod blasted faculty for ignoring "shared governance" by approving the motion without consulting the Student Senate.
David Moore, whose position as chair of the Faculty Executive Committee prevented him from voting on the motion, publicly accused the leading motion supporter of sending him "aggressive" and "bullying" emails and texts. His relationship with Dan Segal, professor of anthropology and history, is "abusive."
A coalition of 75 pro-Israel campus and other groups sent President Oliver a letter thanking him for his public opposition to the faculty motion.
The groups "deeply appreciate your standing up for the academic rights of all Pitzer students, including those who want to travel to or study about Israel," according to the letter, which was shared with The College Fix by one of the signatories, the AMCHA Initiative.
The signatories had sent Oliver a letter hours before he addressed the council, calling the faculty motion "reprehensible," discriminatory and anti-academic. They asked him to issue a statement condemning the vote and "ensuring that no Pitzer student will be impeded from studying about or in Israel."
Read Oliver's statement and the Independent report.
MORE: Pitzer faculty vote to suspend study-abroad program in Israel
IMAGE: paintings/Shutterstock
Like The College Fix on Facebook / Follow us on Twitter