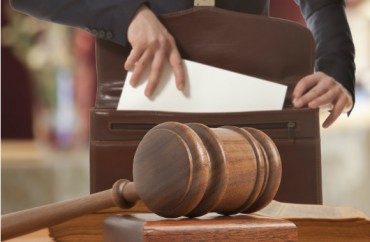 Education Secretary Betsy DeVos* today announced plans to make changes to how universities adjudicate sexual assault claims, calling the current guidelines a "failed system."
The decision comes after years of criticisms lodged at the current guidelines, put in place in 2011 under the Obama Administration through a "Dear Colleague" letter, which many say have resulted in the accused being railroaded in favor of the accuser.
"Instead of working with schools on behalf of students, the prior administration weaponized the Office for Civil Rights to work against schools and against students," DeVos said at a speech at George Mason University today.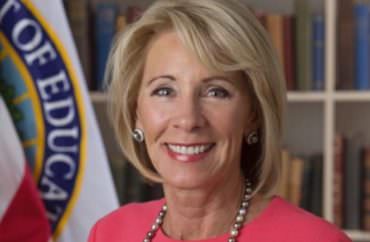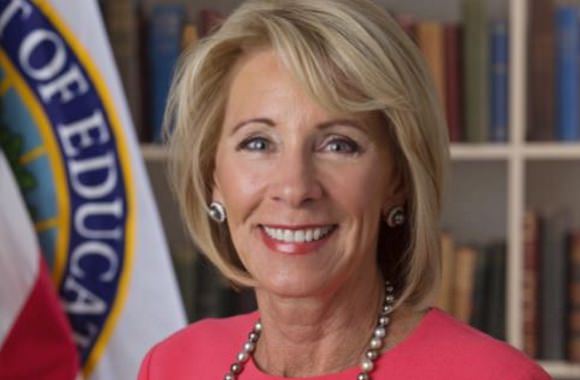 With that, the department's Office for Civil Rights will launch a notice and comment period during which students, parents, watch dogs, administrators, advocates and others can suggest recommendations on how to improve the guidelines.
"In order to ensure that America's schools employ clear, equitable, just, and fair procedures that inspire trust and confidence, we will launch a transparent notice and comment process to incorporate the insights of all parties in developing a better way," DeVos said.
"Our interest is in exploring all alternatives that would help schools meet their Title IX
obligations and protect all students. We welcome input and look forward to hearing more ideas," she added.
The Office for Civil Rights, the division within the Department of Education that oversees the adjudication of sexual assault on campus, has plans to publish temporary guidance to campus administrators on how to handle assault claims as the public comment period unfolds, The College Fix has learned. The interim guidance would likely come by way of a Q&A document from the office.
As for the overall effort, it's something akin to "repeal and replace," one source close to the Office for Civil Rights told The College Fix.
The comment period may last anywhere from six to nine months, and will include a chance for online feedback to be collected as well as possible public hearings on the matter.
"There must be a better way forward," DeVos said during her speech. "Every survivor of sexual misconduct must be taken seriously. Every student accused of sexual misconduct must know that guilt is not predetermined."
Visit The College Fix on Facebook for more live coverage
DeVos emphasized sexual assault is a grave matter and claims must be taken seriously. However, she said feedback she has received from all sides, including administrators, shows the system is broken.
"The Office for Civil Rights has 'terrified' schools," DeVos said she was informed. "Another said that no school feels comfortable calling the department for simple advice, for fear of putting themselves on the radar and inviting an investigation."
"The era of 'rule by letter' is over," she added, referring to the "Dear Colleague" letter from the Obama Administration.
Sent to some 4,600 universities across the nation in 2011, the letter told college officials to use the lowest possible burden of proof when reviewing assault claims, fast-track cases, and discouraged cross-examining accusers.
"Through intimidation and coercion, the failed system has clearly pushed schools to overreach," DeVos said.
She also took aim at the notion that there are victims on only one side. She cited several cases in which accused students have been railroaded.
"This conversation has too often been framed as a contest between men and women or the rights of sexual misconduct survivors and the due process rights of accused students," DeVos said. "The reality is, however, a different picture. There are men and women, boys and girls, who are survivors, and there are men and women, boys and girls who are wrongfully accused."
DeVos' announcement comes as accusations fly that universities are running so-called kangaroo courts, and according to one watchdog, 61 schools have lost legal motions to dismiss due process or Title IX claims brought by accused students.
What's more, a recently released report from the Foundation for Individual Rights in Education found that nearly 75 percent of America's top 53 universities do not guarantee students will be presumed innocent until proven guilty. The group also found that "79 percent of rated universities receive a D or F for protecting the due process rights of students accused of sexual misconduct."
This story is developing. Check back to The College Fix for more detailed reports.
Like The College Fix on Facebook / Follow us on Twitter