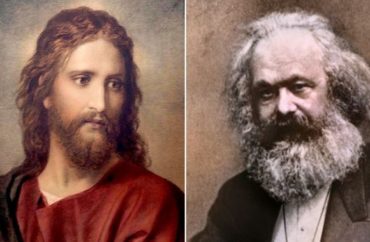 An Ivy League-educated scholar called for an end to capitalism as the only means to create a moral world during her recent guest lectures at the Presbyterian-affiliated Maryville College last week.
Skidmore College Professor of Religious Studies Lucia Hulsether said the country is "drenched" in capitalism's blood. There is "no nonviolent action" in capitalism, she said.
Hulsether gave two lectures as part of the Margaret M. Cummings Conversations speaker series, which is named for a late Bible studies professor and focuses on "faith, service and learning."
The lecture series was hosted by the college's Center for Campus Ministry and held in the school's chapel as well as recital hall.
The Rev. Anne McKee, the campus minister of Maryville, said the purpose of the lecture series was to answer the question: "What does it mean to be a person of faith in the world?"
In two lectures totaling almost two hours, Professor Hulsether did not bring up Jesus once.
With a stained glass window picturing Jesus behind her, Hulsether promoted Karl Marx's critiques of capitalism as a remedy for injustice in the world.
Marx, Hulsether said, believed the capitalist system is like a vampire sucking blood and is "tantamount to a horror film." In contrast to this, she said, Marx offers a world of cooperative and creative work.
Hulsether asked how anyone could even begin to think capitalism could be a "theater for their moral values."
She spoke out against Maryville students getting paid to work part-time in the dining hall: "All of the sudden, the capacity for creative human labor that makes you human has been ripped away from its context and turned into a commodity," she said of students getting paid $10 to $12 an hour at the dining hall.
"That for Marx, and for those who have continued to reformulate his thinking, is what is violent and terrifying about capitalism," she said.
Hulsether focused on how "woke capitalism," like microloans for people in developing countries, carbon footprint offsets, and fair trade companies, will never be adequate because it is "premised on the extraction of monetized value from precarious populations that are disproportionately black, brown and female."
The theme for her lectures was "Buying, Selling and Doing the Right Thing: Life Under Capitalism." One speech was titled "Woke Capitalism" and the other "Total Depravity." Both speeches touched on many of the same subjects.
Education watchdog Mark Pulliam, who attended one of the lectures, wrote the talk was not about religion, but rather about "leftist politics, socialist economics, anti-American slogans, and the latest post-modern academic theories masquerading as piety and spirituality."
"Maryville College disdains capitalism and worships at the altar of Karl Marx," he wrote on Misrule of Law.
McKee and Hulsether did not respond to requests for comment.
Maryville College, a liberal arts school in Tennessee with 1,100 students, was originally founded by Presbyterians as the Southern and Western Theological Seminary. It now has a "connection" to the Presbyterian Church and hosts chapel once a week with talks by professors and students.
The college does not offer a major in theology or bible studies, but rather a major in religion, which studies all religions "from the Bible to the teachings of the Buddha," according to a description on its website. The religion major, the website states, also seeks to explore why some people "commit their lives to social justice" while others "commit violence."
Hulsether, a religious studies professor, connected her talk on capitalism to her field of study, saying, "There is something religious about how people identify with and attach to the economic systems that they're in."
"The quiet voice of conscience," she said, warns people about the morality of capitalism.
Hulsether earned her Master of Divinity from Harvard University and her Ph.D. from Yale University.
MORE: Universities Nationwide Snub, Criticize Christ, Survey Finds
IMAGE: Wikimedia Commons
Like The College Fix on Facebook / Follow us on Twitter