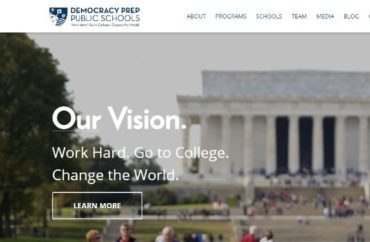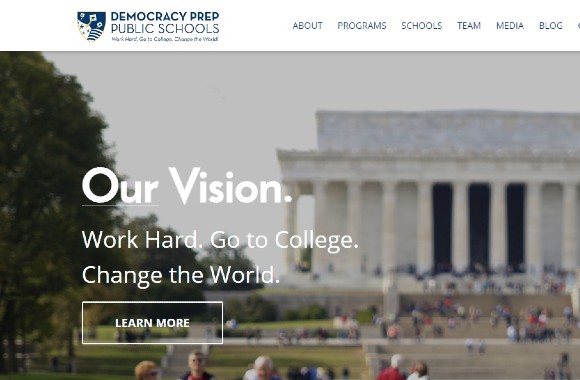 Curriculum swung hard left when New Yorkers acquired the school
A Nevada mother has followed through on her threat to file a civil rights lawsuit against her son's charter school for refusing to let him opt out of a mandatory class that promotes hostility toward whites as a race.
Democracy Prep at the Agassi Campus forced William Clark "to make professions about his racial, sexual, gender and religious identities in verbal class exercises and in graded, written homework assignments," creating a hostile environment, the biracial high school student and Gabrielle Clark allege in their federal lawsuit filed Tuesday.
The senior's statements were "subject to the scrutiny, interrogation and derogatory labeling of students, teachers and school administrators," who are "still are coercing him to accept and affirm politicized and discriminatory principles and statements that he cannot in conscience affirm."
The suit also names Democracy Prep Public Schools, the New York-based charter network, and several officials in the local school and network as defendants.
It has nearly 150 pages of exhibits documenting the curriculum in the graduation requirement "Sociology of Change," which allegedly promotes intersectionality and critical race theory. According to the suit, the curriculum was imposed by a new crop of officials who joined DPAC three years ago – halfway through William's schooling at DPAC. (The charter network acquired the school in 2016 with help from a federal grant.)
Officials also falsely promised students that their mandatory identity divulsions would be kept private, when in reality their graded assignments would "immediately became visible to all DPAC teachers and administrators" and administrators would sometimes covertly "tune in" to the virtual sessions.
Nevada's public charter regulator is named as a defendant for its "acquiescence and deliberate indifference to DPAC's discriminatory and unconstitutional acts and curriculum programming," the plaintiffs claim. The State Public Charter School Authority recently renewed its contract with DPAC, the network and its Nevada affiliate.
Evolutionary biologist Colin Wright, who says "cancel culture" drove him out of academia for arguing that sex is not a "spectrum," broke the news of the lawsuit on his Twitter account early Wednesday.
MORE: Lawsuit threatened against DPAC for mandatory anti-white course
19/ What follows is a selection of class materials that the children were exposed to and expected to believe without question.

▫️Internalized oppression
▫️Internalized privilege
▫️Institutional sexism/racism/transphobia pic.twitter.com/fMtwtkkN41

— Colin Wright (@SwipeWright) December 23, 2020
"To my knowledge this is the first lawsuit of its kind," the Quillette managing editor wrote in the thread. "Keep a close eye on this one, as it could set a precedent and cause a lot of dominoes to start falling."
It alleges several constitutional violations including compelled speech, viewpoint discrimination, retaliation, invasion of privacy, denial of equal protection and infringement of the establishment clause. The defendants committed "intentional and retaliatory discrimination on the basis of color, race and religion" and gender discrimination.
They even violated state contract law by breaking their own stated promises, according to the suit: "Suddenly after renewing enrollment" this fall, "students were being instructed in a fringe ideology overtly hostile to core personal beliefs about home and church, race and sex, and much else."
The lawsuit is sponsored by Schoolhouse Rights, a project of the nonprofit International Organization for the Family. "We believe our civil rights case to be the first of its kind across the nation," the project website says. An educational activist group, No Left Turn, said it connected the Clarks with counsel.
Jonathan O'Brien, the Clarks' lawyer, invited The College Fix to "talk briefly" about the lawsuit but has not answered a query about what other cases are planned under the project, and on what timeline.
Couldn't identify the problem 'until watching their distance learning classes'
Gabrielle Clark, who is black and has two black children, has not been shy about describing her interactions with DPAC officials.
She tweeted last month that Assistant Superintendent Kimberly Wall, now an individual defendant, and DPAC's house counsel decided to "blow smoke up my ass" at a meeting that followed her lawyer's warning letter about the mandatory class.
"I knew something was wrong with my kids but I didnt know it was because of the school until watching their distance learning classes," the mother tweeted Wednesday night, referring to when she saw the disputed curriculum. "That's when I withdrew my daughter and got the lawyers for my son. I'm not playing with these people."
The mandatory "Sociology of Change" class has violated the mother's constitutional due process right to "family integrity and autonomy" by interfering with her "right and covenant to guide and direct the upbringing" of her children, according to the suit. She's particularly upset that the curriculum explicitly told her children to "unlearn" the "traditional Judeo-Christian principles" she is teaching them.
The curriculum also implied that William's white father, who died when his son "was too young to know him," likely physically abused his black mother because he was white. William is so light-skinned that he is usually regarded as white – "the only apparent white boy in his class."
The suit emphasizes the Clarks' hardships and William's aspirations. Gabrielle is "temporarily disabled and unemployed," and William is "working as a shift manager at a local fast food chain restaurant in order to help his family financially" while learning remotely. He's applying for colleges now, and his plans to study musicology are threatened by the school's actions against him.
I knew something was wrong with my kids but I didnt know it was because of the school until watching their distance learning classes. That's when I withdrew my daughter and got the lawyers for my son. I'm not playing with these people.

— Gabs (@GabsClark5) December 23, 2020
DPAC's "conventional civics curriculum" took a hard swing left when Natasha Trivers became the permanent CEO, even though "the generic name and syllabi provided to parents remained the same."
It now required students to "unlearn" and "fight back" against "oppressive" structures in their religious and family practices, going beyond simple "descriptive or informational" lessons. After they were coerced to divulge identities in "non-private interrogation" sessions, students with disfavored identities were "officially singled out in the programming as inherently problematic."
According to the suit, "Sociology of Change" teacher Kathryn Bass addressed one class session as "my wonderful social justice warriors!" She told them to determine if any of their identities had "privilege or oppression attached" for a graded assignment.
Though students with supposedly oppressive identities – among them white, male and Christian – were officially allowed not to divulge them in "breakout" sessions with other students, this was functionally a meaningless gesture, because silence would only highlight their status as oppressors:
Defendants' class exercises forced upon William Clark a deliberately designed, psychologically abusive dilemma: participate in the exercise in violation of his conscience and be branded with a pejorative label; or conscientiously refrain from participation, and suffer isolation from his classmates and be maligned by the same labeling regardless.
MORE: School district backtracks on punishing teachers for criticizing CRT
23/

▫️Breakout sessions to reflect on the privilege or oppression of their identities

▫️Racism = prejudice + power, therefore non-whites cannot be racist, by definition

▫️"Values identify what should be judged as good or evil" pic.twitter.com/mFIglFxHQ6

— Colin Wright (@SwipeWright) December 23, 2020
Endangering her son in a class where he's only the apparent white kid
In a later session, Bass cut off class discussion when William and other students "sought to engage critically" with the materials. The teacher failed William and "penalized him for not completing graded identity confession assignments."
Principal Adam Johnson, also executive director at the Nevada affiliate, issued William a D-minus for the class in spite of DPAC's own handbook, which explicitly bans D grades because they can veto college admissions offers. This ruined the student's "good college prospects built on years of hard work and a strong GPA."
Meetings with "increasingly higher levels" of school and charter network officials, "from September to the present," produced the same response to the situation: "don't participate, don't graduate," the plaintiffs allege.
Gabrielle warned School Board Chair Joseph Morgan, Johnson and Wall in one email that Bass was "blatantly justifying racism against white people" in a class where her son was the only apparent white student. This puts him in "emotional, psychological, and physical danger."
Johnson (below) finally "moderated" his no-compromise attitude in October, "[p]erhaps sensing that litigation might be looming," and said William could get a C-minus if he completed the "minimum" of class work.
The plaintiffs claim this proffered grade could disqualify him from his colleges of choice – New York University and the Berklee College of Music.
The defendants have rejected every other offer, including a virtual community college class, according to the suit:
These condescending offers, both coercive and retaliatory against constitutionally protected speech and behavior, again forced Plaintiffs to choose between fidelity to conscience and their right to a public education. Defendants to this day offer no accommodation that does not include grade penalization.
William was actually given a D-minus just before Thanksgiving, which not only violated DPAC's own grading policy but was "intended as a malicious slight" to kneecap his "academic and professional career after high school."
To add insult to injury, the school suspended William Dec. 16 on the basis that he committed "racism," the suit claims. He was already in therapy because of the school's current and anticipated retaliation.
Gabrielle has also suffered "severe emotional distress" and "heart palpitations, weight gain and insomnia" from DPAC's treatment of her son. "She has watched helplessly as Defendants doubled down again and again on their coercive ideological policy towards her son, threatening his graduation and academic and professional future."
The school's actions are even worse because they contradict Trivers' own public encouragement to students to "stand up for what is right, even if that means pushing back against a school policy."
MORE: Wright forced out of academia for insisting sex is real
9/ The education agency "Democracy Prep" encouraged radical activism against existing school policies. pic.twitter.com/FUpMpbmODp

— Colin Wright (@SwipeWright) December 23, 2020
The plaintiffs are seeking an emergency order forcing the school to grant William his graduation and degree and give him "an alternative non-discriminatory, non-confessional class that would restore him to good academic standing as he applies for college."
They want his D-minus grade removed and a ban on the school "implementing or enforcing compulsory, graded identity confessions and derogatory labeling." The Clarks also seek compensatory and punitive damages and attorney's fees.
MORE: Math association vows to use math to promote CRT
IMAGES: Democracy Prep Public Schools screenshot, Democracy Prep Public Schools/YouTube
Like The College Fix on Facebook / Follow us on Twitter