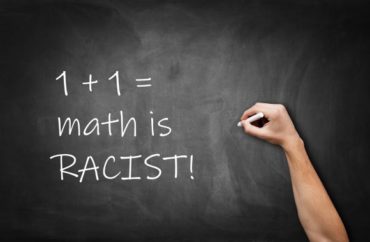 Remember the good old days when 1+1=2 and that was that? Math was the one incorruptible field in which opinion was irrelevant and facts mattered.
Those days are gone. We were told by federal educators in the Common Core era that 3 X 4 = 11. Now we are being told by critical race scholars that 2+2 can equal 5.
Sadly, mathematicians are agreeing with this type of mumbo-jumbo.
A statement put out October 2 by the Mathematical Association of America stated that it "is time for all members of our profession to acknowledge that mathematics is created by humans and therefore inherently carries human biases."
"Reaching this potential in mathematics relies upon the academy and higher education engaging in critical, challenging, sometimes uncomfortable conversations about the detrimental effects of race and racism on our community. The time is now to move mathematics and education forward in pursuit of justice."
The statement bemoaned recent efforts the Trump administration has taken to fight the onslaught of critical race theory in education.
"Critical race theory, referenced in recent Executive statements by the President of the United States, is an established social science inquiry which is grounded in decades of scholarship," the association stated. "It is misguided, at best, to reduce this theory to the race-blaming of white people and to define it and the discussion of systemic racism as a 'divisive concept.'"
"Furthermore, banning training utilizing this scholarship to raise consciousness, from federal and federal contractor workplaces, is an encroachment on science and the academy."
The association bills itself as "the world's largest community of mathematicians, students, and enthusiasts." And it is not the first entity to declare math racist or vow to use the field to advance political causes.
As The College Fix reported in 2019, an emerging term dubbed "math equity" refers to the growing insistence among educators that teaching math in the classroom comes with some inherently biased methodology that must be addressed.
More professors and educators are tweeting under the hashtag #MathEquity to share strategies on the topic.
"Equity-based mathematics teaching requires more than implementing new curriculum or using specific practices because it involves taking a stand for what is right," the website for the National Council of Teachers of Mathematics states.
TRENDING: Educators work to combat racism, whiteness in math
Like The College Fix on Facebook / Follow us on Twitter