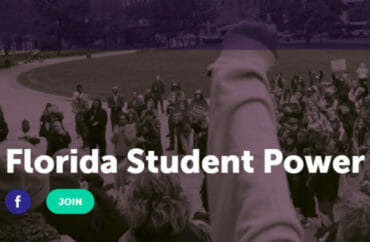 Bill sponsor fumes: 'They don't want you to say anything if you disagree with them'
A coalition of "intersectional" student activists, Democrats and even Republicans shut down a Florida bill that would get rid of "free speech zones" and open all outdoor areas of public campuses to speech.
They objected to provisions in the Campus Free Expression Act (SB 1234) that would let students sue for damages when their expressive rights are violated, and would require student governments to provide written explanations of their funding allocations for student groups.
Of particular concern: how the bill could affect attempts to shut down events with Richard Spencer and other high-profile white nationalist leaders.
Republican Gov. Rick Scott declared a state of emergency ahead of Spencer's planned event at the University of Florida last fall, and the audience drowned out Spencer with chants and boos, according to the Associated Press.
No punishment for 'minor, brief, or fleeting' disruptions
The Florida Senate Judiciary Committee voted down the bill 6-4 Tuesday, even after sponsoring Sen. Dennis Baxley offered an amendment that removed steep financial penalties against offending institutions and narrowed language about prohibited disruptions.
Intended to let students speak "freely, spontaneously, and contemporaneously" anywhere on campus and protect them and their events from disruptions by protesters, the bill was cast by opponents as an attack on their own speech.
The original version set a $100,000 cap on compensatory damages against public institutions of higher education, or individuals acting on their behalf, for a "single violation" of a person's "expressive rights." It set the minimum penalty for each violation at $500. The state attorney general or victim of the violation would be able to sue.
It said students, faculty and staff "may not materially disrupt" scheduled or reserved activities.
"Free speech zones" are deceptive in that they actually restrict students from exercising their First Amendment rights to specific spaces which are often tucked away on hidden corners of campus. https://t.co/jX5T9skbEz

— GenOpp (@GenOpp) February 18, 2018
The substitute amendment, which replaced the original bill, eliminated the specific damages available, simply letting any victim of a violation bring suit for "declaratory and injunctive relief, reasonable court costs and attorneys' fees."
It also defined "material and substantial disruption," specifying it doesn't include First Amendment-protected "lawful protests and counter-protests" or "minor, brief, or fleeting nonviolent disruptions that are isolated or short in duration."
Both versions require student governments to give a "written justification for the amount of funds awarded" to recognized student organizations that submit funding requests.
"In the interest of preserving viewpoint neutrality" in such requests and awards, student governments would have to maintain "an organized record" of requests and awards by organization name on their websites. The written justifications would be included with each organization's record.
ACLU claims it will chill protests
According to state political publication Florida Politics, the bill's elimination of free speech zones and expansion of speech campuswide was the only provision that drew widespread support at Tuesday's hearing.
Activists from the far-left Florida Student Power Network, which promotes "intersectional" causes, testified that the bill would have affected the legal landscape for Spencer's University of Florida event that activists successfully shut down.
A representative for another Florida far-left group, Dream Defenders, claimed the bill would "cost you, maybe in the thousands," for speech in response to hate speech, according to Florida Politics.
The United Faculty of Florida and the ACLU of Florida also opposed the bill, even after Baxley tried to appease opponents with his amendment protecting peaceful protests and ditching minimum penalties, according to News 4 JAX.
"This bill will result in chilling speech on college campuses" as colleges seek to avoid lawsuits alleging disruptions of campus events, claimed Kara Gross on behalf of the ACLU.
MORE: Florida governor declares 'emergency' ahead of Spencer talk
We're in Tallahassee today with Florida Student Power Network to #killthebill. SB1234 would encourage universities to stamp down on campus protests of speakers like the ones against Betsy DeVos & Richard Spencer. This is a direct response to the rising youth power in this state! pic.twitter.com/6xjReGvNBQ

— The Dream Defenders (@Dreamdefenders) February 20, 2018
"There's a portion of the left end of this spectrum that they absolutely are opposed to free speech," Baxley said after the 6-4 vote against the bill, News 4 JAX reported. "They don't want you to say anything if you disagree with them."
The Florida Senate's bill analysis, published before the hearing, said the bill's provisions "appear to be consistent with the federal and state constitutions," and its language on actions that "materially and substantially disrupt" comes from the Supreme Court's Tinker precedent.
The only warnings in the analysis: that the "federal funding" language could let those at private universities claim the bill applies to those institutions, and that the state may face "future fiscal impact" from the bill.
Florida Politics reported the bill was initially "marked favorable," but a Republican opponent, Sen. Rene Garcia, challenged the vote count. Garcia had questioned the language requiring student governments to give written justifications in response to funding requests.
That led committee chair Sen. Greg Steube to mark the bill "temporarily postponed." Two Republicans joined all four committee Democrats to defeat it.
Baxley's office did not respond to multiple calls and emails from The College Fix this week.
Republican Bob Rommel, sponsor of a "related" bill (HB 909) in the state House of Representatives, told The Fix in an email he "can't speak for the Senate and why they temporar[il]y postponed the bill or if the Judiciary Committee will meet again."
The bill "passed the final committee in the house," he said: "All I know is I have heard from thousands of students in support of the bill and the protection of their civil right. The Chairman of the Board of Governors spoke in support of the bill."
The Fix could not find a written statement supporting the bill by Board of Governors Chair Ned Lautenbach. He didn't mention the subject in a Feb. 5 op-ed on "my goals" for the state university system. Rommel did not respond to followup questions from The Fix.
Would you force MLK into a free speech zone?
A conservative advocacy group aimed at young people, Generation Opportunity, has been a long and active supporter of the bill.
Earlier this year it launched a mail campaign encouraging people to thank Rommel and Baxley for fighting for free speech on campus.
Recently it posted a video on Facebook that asked people to think about how effective Martin Luther King Jr.'s March on Washington would have been if it were subjected to free speech zones. The organization also submitted testimony at the hearing.
"College is a place where young people learn to express themselves and challenge ideas that go against their beliefs, but that dialogue will never occur if free speech is forced into the remote and empty corners of our campuses," Generation Opportunity-Florida Coalitions Director Demetrius Minor wrote in a separate statement.
"We don't always agree with every single viewpoint expressed on campuses across our state, but disagreeing with an opinion does not give us license to deny someone's First Amendment right to voice it," he added.
GO-FL did not respond to a Fix request for its version of events at Tuesday's hearing, or its plans moving forward regarding the legislation.
MORE: Campus free speech becomes Florida campaign issue
IMAGE: Florida Student Power Network screenshot
Like The College Fix on Facebook / Follow us on Twitter