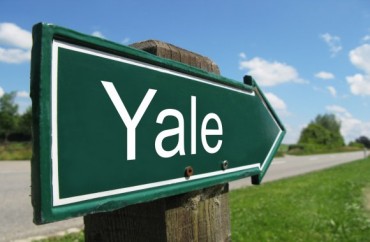 Progressive Yale Law School students are calling on classmates to "ostracize" their right-of-center peers after news leaked that the U.S. Supreme Court may overturn Roe v. Wade.
The Washington Free Beacon reports on several rather hysterical social media posts ripping, among others, students involved with the YLS Federalist Society.
YLS student Shyamala Ramakrishna wondered on Instagram why Federalist Society members were still "coming to our parties" and "laughing in the library" without an "unrelenting daily confrontation." She referred to FS members as "conspirators in the Christo-fascist political takeover."
First-year YLS student Melisa Olgun (pictured) took the critical race theory route, asking "How can we possibly expect a document, drafted by wealthy, white, landowning men, to protect those who face marginalization that is the direct result of the very actions of the founders?"
Olgun maintained that theme by noting "'liberal' legal discipline will continue to bend over backwards to uphold the decorum, norms, and the sanctity of an institution that serves only those who benefit from originalism."
She added "Neither the constitution nor the courts—nor the fucking illusion of 'democracy'—are going to save us."
According to her Linkedin page, Olgun is a contributing writer to "the first comprehensive curriculum in Reproductive Psychiatry."
MORE: WATCH: Yale law students scream at conservative speaker
The report notes Ramakrishna and Olgun were signatories to a letter blasting the Federalist Society for inviting a member of the Alliance for Defending Freedom to speak at a discussion on free speech.
The two (and others) were not pleased that the Free Beacon posted their allegedly private Instagram messages, saying it had no "authorization" to use them.
"This was posted PRIVATELY, on a private story, and was clearly leaked to you," [YLS student Leah] Fessler said in an email, adding that the Free Beacon was "in no way authorized" to use the message.

"The post was on a private account on a private story that was sent to you without my knowledge," Olgun said. "You are in no way authorized to use it or my name in your story."

The replies may have been a tacit invocation of copyright laws that ban the dissemination of photos without their owner's consent. Publishing private Instagram posts, a lawyer might argue, violates intellectual property rights, though Adam Candeub, an intellectual property expert at Michigan State University College of Law, called that argument "bullshit."

"It's not clear copyright would even apply," Candeub said. "I wonder what they're teaching at Yale Law School."

Eugene Volokh, a professor of First Amendment law at UCLA School of Law, said the copyright argument was a stretch.
The language used in the Instagram posts should come as no real surprise; at the referenced Federalist Society event, progressive YLS students yelled and screamed in protest. One demonstrator said she would "literally fight you, bitch" to a FS member, while another shouted "Fuck you, FedSoc" upon exiting the forum.
MORE: Yale Law dean says recent shout-down did not violate school's free speech policy
IMAGES: Shutterstock.com; Melisa Olgun/Linkedin
Like The College Fix on Facebook / Follow us on Twitter