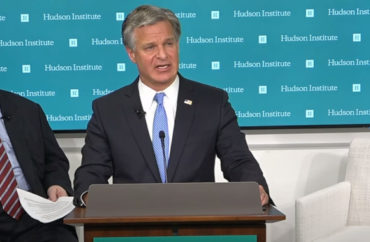 Last week, FBI Director Christopher Wray gave a speech to the Hudson Institute detailing China's efforts to influence U.S. institutions, calling China's theft "one of the largest transfers of wealth in human history."
"The greatest long-term threat to our nation's information and intellectual property, and to our economic vitality, is the counterintelligence and economic espionage threat from China," said Wray at the event hosted by Walter Russell Mead, the Ravenel B. Curry III Distinguished Fellow in Strategy and Statesmanship at the Hudson Institute.
"It's a threat to our economic security—and by extension, to our national security," said Wray.
The FBI director continued:
But if you think these issues are merely a government problem, or just an intelligence issue, or a nuisance largely just for big corporations who can take care of themselves—you couldn't be more
wrong.

It's the people of the United States who are the victims of what amounts to Chinese theft on a scale so massive that it represents one of the largest transfers of wealth in human history.

If you are an American adult, it is more likely than not that China has stolen your personal data.

In 2017, the Chinese military conspired to hack Equifax and made off with the sensitive personal information of 150 million Americans—we're talking nearly half of the American population and most American adults—and as I'll discuss in a moment, this was hardly a standalone incident.

Our data isn't the only thing at stake here—so are our health, our livelihoods, and our security.
Wray discussed China's infiltration into the U.S. higher education system by highlighting a number of recent FBI arrests of Chinese researchers that attempted to hide their connections to China:
Through talent recruitment programs like the Thousand Talents Program I mentioned a moment ago, China pays scientists at American universities to secretly bring our knowledge and innovation back to China—including valuable, federally funded research. To put it bluntly, this means American taxpayers are effectively footing the bill for China's own technological development. China then leverages its ill- gotten gains to undercut U.S. research institutions and companies, blunting our nation's advancement and costing American jobs. And we are seeing more and more of these cases.

In May alone, we arrested both Qing Wang, a former researcher with the Cleveland Clinic who worked on molecular medicine and the genetics of cardiovascular disease, and Simon Saw-Teong Ang, a University of Arkansas scientist doing research for NASA. Both were allegedly committing fraud by concealing their participation in Chinese talent recruitment programs while accepting millions of dollars in American federal grant funding.

That same month, former Emory University professor Xiao-Jiang Li pled guilty to filing a false tax return for failing to report the income he'd received through China's Thousand Talents Program. Our investigation found that while Li was researching Huntington's disease at Emory, he was also pocketing half a million unreported dollars from China.

In a similar vein, Charles Lieber, chair of Harvard's Department of Chemistry and Chemical Biology, was indicted just last month for making false statements to federal authorities about his Thousand Talents participation. The United States has alleged that Lieber concealed from both Harvard and the NIH his position as a strategic scientist at a Chinese university—and the fact that the Chinese government was paying him, through the Wuhan Institute of Technology, a $50,000 monthly stipend, more than $150,000 in living expenses, and more than $1.5 million to establish a laboratory back in China.
Wray also noted other instances of Chinese researchers stealing U.S. technology, including one case where, incredibly, China tried to sell the copyright for the technology back to an American company:
"…There's the case of Shan Shi, a Texas-based scientist, also sentenced to prison earlier this year. Shi stole trade secrets regarding syntactic foam, an important naval technology used in submarines. Shi, too, had applied to China's Thousand Talents Program, and specifically pledged to "digest" and "absorb" the relevant technology in the United States. He did this on behalf of Chinese state-owned enterprises, which ultimately planned to put the American company out of business and take over the market.

In one of the more galling and egregious aspects of the scheme, the conspirators actually patented in China the very manufacturing process they'd stolen, and then offered their victim American company a joint venture using its own stolen technology. We're talking about an American company that spent years and millions of dollars developing that technology, and China couldn't replicate it—so, instead, it paid to have it stolen.
The full event can be viewed here:
MORE: Harvard professor indicted for lying about ties to China
IMAGE: YouTube screen capture
Like The College Fix on Facebook / Follow us on Twitter