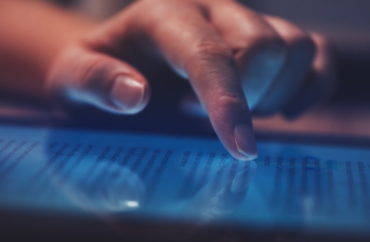 A group of professors is using taxpayer dollars doled out by the federal government to develop a new misinformation fact-checking tool called "Course Correct."
National Science Foundation funding, awarded through a pair of grants from 2021 and 2022, has amounted to more than $5.7 million for the development of this tool, which, according to the grant abstracts, is intended to aid reporters, public health organizations, election administration officials, and others to address so-called misinformation on topics such as U.S. elections and COVID-19 vaccine hesitancy.
This $5.7 million in grant money is on top of nearly another $200,000 awarded in 2020 through a Coronavirus Aid, Relief and Economic Security Act-funded NSF grant for a project focused in part on mental health that Course Correct is said to have grown out of.
According to the abstract of the 2021 grant, Course Correct's developers, a group of five professors from various institutions nationwide, are using techniques related to machine learning and natural language processing to identify social media posts pertaining to electoral skepticism and vaccine hesitancy, identify people likely to be exposed to misinformation in the future, and flag at-risk online communities for intervention.
"Democracy and public health in the United States rely on trust in institutions," the professors wrote in the grant abstract. "Skepticism regarding the integrity of U.S. elections and hesitancy related to COVID-19 vaccines are two consequences of a decline in confidence in basic political processes and core medical institutions."
The College Fix recently reached out to several of the researchers associated with Course Correct, including Michael Wagner of the University of Wisconsin-Madison's School of Journalism and Mass Communication. Wagner is also listed as the principal investigator on the 2021 and 2022 grants.
In response, Wagner supplied a FAQs sheet and a link to a February 2023 UW-Madison post about the project.
The FAQs sheet appears to work to allay apparent concerns the tool could be used to tell journalists what stories to cover or how to cover them, stating "Journalists who work with Course Correct decide for themselves what topics they want to cover" and "Journalists produce their stories independently of the Course Correct team."
Similarly, to assuage concerns Course Correct could be used for content moderation, the FAQs sheet stated, "Course Correct does not engage in content moderation, nor does Course Correct have ambitions to pursue content moderation in the future."
Additional developers listed on the project include Sijia Yang of the University of Wisconsin-Madison School of Journalism and Mass Communication, Porismita Borah of Washington State University's Edward R. Murrow College of Communication, Srijan Kumar of Georgia Tech's College of Computing, and Munmun De Choudhury of Georgia Tech's School of Interactive Computing.
In the 2021 grant abstract, they wrote social media serves "as a major source of delegitimizing information about elections and vaccines, with networks of users actively sowing doubts about election integrity and vaccine efficacy, fueling the spread of misinformation."
Therefore the researchers stated they are working to develop a tool that would "support and empower efforts by journalists, developers, and citizens to fact-check such misinformation."
Additionally, they wrote they sought to work with "professional fact-checking organizations to lab test two types of intervention messages—pre-exposure inoculation and post-exposure correction — aimed at mitigating electoral skepticism and vaccine hesitancy, optimizing them using recommender system techniques."
They also noted they sought to conduct experiments utilizing and delivering "lab-developed interventions" via ads, bots and influencers.
"This project," they explicitly stated, "is motivated by a desire to understand and help address two democratic and public health crises facing the U.S.: skepticism regarding the integrity of U.S. elections and hesitancy related to COVID-19 vaccines."
Although, according to its grant abstract, the 2020 project that later led to Course Correct was largely focused on mental health aspects of the pandemic, it also listed among its outcomes assessments of how sharing purported COVID-19 misinformation negatively impacts psychological well-being and the development of methods to analyze social media posts based on both language and imagery to better detect "crisis related postings."
In the abstract for the 2022 grant, the Course Correct team described their intent to develop a "flexible and dynamic digital dashboard" that could "identify trending misinformation networks," "strategically correct misinformation," and "test the effectiveness of corrections in real time."
Yet, in contrast to the language found in these NSF award abstracts, which largely focused on combating purported misinformation about COVID-19 vaccines and elections, the February 2023 post from UW-Madison emphasized the tool's use to mitigate the influence of misinformation regarding topics that are largely apolitical.
The February 2023 post titled "Course Correct Working To Help The Public Understand Accurate Information About Food Safety" focused largely on the dangers of misinformation regarding food and drug safety, like the consumption of raw milk and the practice of vaping.
Dhavan Shah, a collaborator on the project and the director of the University of Wisconsin-Madison School of Journalism and Mass Communication's Mass Communication Research Center, was quoted in the September 2022 post as saying: "Challenges of misinformation are not restricted to elections and COVID or to a particular community; we see large volumes of false information circulating around product recalls, children's vaccines, and natural disasters, all of which our system could be adjusted to address."
In a subsequent email exchange in which The Fix asked Wagner whether there's a change in course for Course Correct given the contrast in the language of the grant abstracts and the more recent posts from UW-Madison, Wagner replied, "No."
"Our original Phase I [2021] proposal and our Phase II [2022] proposal treated those issues [COVID and elections] as proof of concept examples. Our proposals also highlighted our plan to apply our work to as wide a variety of issues as possible. In the proposals, we specifically referenced pilot testing we have done on issues including: raw milk, genetically modified foods, vaccine safety, fluoride in water, Covid-19, and sunscreen safety," he wrote.
When asked if he could provide more detail regarding how Course Correct defines misinformation and whether it was based on the opinions of specific experts or the stances of official organizations, Wagner replied: "Course Correct's goal is to contribute to public conversations by sharing verifiably accurate information, not opinions or stances."
The professor did not respond by the time of publication to a follow-up question regarding how Course Correct specifically defines "verifiably accurate information."
MORE: Feds give Michigan State $585,000 to study 'far right' social media use
IMAGE: Bits and Chutes / Shutterstock; Inside, YouTube screenshot
Like The College Fix on Facebook / Follow us on Twitter