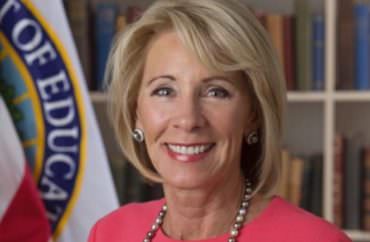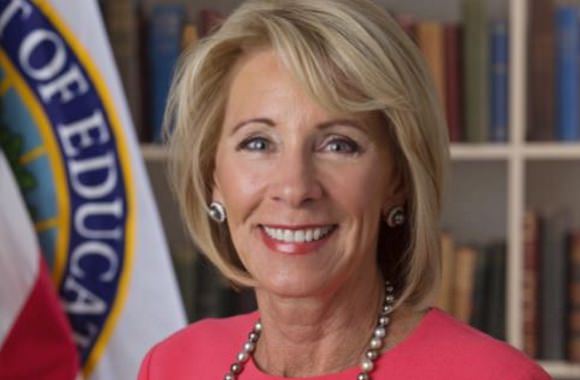 Also: more detailed allegations, fairer 'interim measures,' no gag orders
As expected, today Education Secretary Betsy DeVos* rescinded regulatory guidance from the Obama administration that tilted Title IX proceedings against accused students and endangered constitutionally protected speech, including overheard sex jokes and academic writing on "sexual paranoia."
The Department of Education also released interim guidance ahead of a formal Title IX rulemaking, the first in 16 years.
The most prominent change: Colleges are now allowed to use the "clear and convincing" evidence standard to judge accused students, which roughly translates to 75 percent certainty. They can also continue using "preponderance," the 50.01-percent certainty standard, which was mandated by the rescinded guidance.
"There will be no more sweeping [sexual-assault crimes] under the rug," DeVos said in a department release. "But the process also must be fair and impartial, giving everyone more confidence in its outcomes."
Oddly, DeVos's statement mentions "survivors" but not accused students as a constituency who will be heard in the rulemaking.
Ban on training materials that promote 'sex stereotypes'
The department is going back in time to 2001, when it last issued guidance that followed a rulemaking on sexual harassment, and 2006, when a "Dear Colleague" letter on sexual harassment was released.
These older documents will replace Obama-era guidance from 2011 and 2014, none of which went through a required rulemaking, "created a system that lacked basic elements of due process and failed to ensure fundamental fairness," the release said.
The interim guidance is ordered around flexibility. Schools now have the option to end appeals, allow one party or both to appeal rulings; and allow "informal resolution" such as mediation if all parties agree.
They also no longer have a "fixed time frame" in which they must conclude investigations, as long as they demonstrate a "good faith effort to conduct a fair, impartial investigation in a timely manner" that gives everyone a resolution.
Vague notices of wrongdoing and withholding of evidence – practices that were widely alleged in due process litigation against colleges during the Obama administration – have been banned:
Sufficient details include the identities of the parties involved, the specific section of the code of conduct allegedly violated, the precise conduct allegedly constituting the potential violation, and the date and location of the alleged incident. Each party should receive written notice in advance of any interview or hearing with sufficient time to prepare for meaningful participation. The investigation should result in a written report summarizing the relevant exculpatory and inculpatory evidence. The reporting and responding parties and appropriate officials must have timely and equal access to any information that will be used during informal and formal disciplinary meetings and hearings.
Forced silence and one-sided training materials are also out:
Restricting the ability of either party to discuss the investigation (e.g., through "gag orders") is likely to deprive the parties of the ability to obtain and present evidence or otherwise to defend their interests and therefore is likely inequitable. Training materials or investigative techniques and approaches that apply sex stereotypes or generalizations may violate Title IX and should be avoided so that the investigation proceeds objectively and impartially.
In a nod to frequent complaints by both accusers and accused that they are left out of the loop when decisions are reached, the interim guidance "recommends" giving written notice to both parties at the same time.
Off-campus allegations must involve a school 'program or activity'
It also returns the department to solid legal ground on Title IX obligations.
Schools are only obligated to address "severe, persistent or pervasive" sexual misconduct – language that tracks a 1998 Supreme Court ruling that shortly preceded the last rulemaking. Their investigations must be "fair and impartial" and "timely," and be led by a person "free of actual or reasonably perceived conflicts of interest and biases."
Importantly, in a footnote in the seven-page guidance document, the department reiterates that schools are not bound under Title IX to investigate allegations that occur off-campus and do not "involve a program or activity of the recipient."
It cites determination letters to Oklahoma State University and the University of Wisconsin-Madison that preceded the rescinded Obama-era guidance.
The guidance also emphasizes that "interim measures" while a school is investigating complaints "may not rely on fixed rules or operating assumptions that favor one party over another, nor may a school make such measures available only to one party."
Title IX coordinators are obligated to make "every effort to avoid depriving any student of her or his education" during investigation, and to adjust interim measures when warranted as the investigation proceeds.
Accused students have frequently claimed that investigations required them to drop certain courses, avoid certain dining halls and otherwise prevent their free movement on campus. Some have claimed they were denied counseling that was readily made available to their accusers.
After DeVos's speech laying out the broad brush strokes of a new Title IX policy two weeks ago, a survey was conducted that found the vast majority of Americans support her direction. It has also been grudgingly approved by some of DeVos's liberal critics.
Andrew Miltenberg, who has represented more than 100 accused students in litigation against their colleges, cheered the Friday pivot in an email but cautioned it was early:
The due process rights for which we have advocated on behalf of our clients – more than 100 accused students –  have finally been acknowledged by the Department of Education as severely lacking in school Title IX proceedings.  The current inequities addressed in the new "Q&A on Campus Sexual Misconduct" … are all major improvements to a broken system.

Of course, we will have to see in what measure educational institutions enforce this new guidance. The forthcoming notice and comment period will provide the true test of whether our schools can accept due process as their responsibility when addressing sexual misconduct.
Read the department's release and seven-page interim guidance.
Like The College Fix on Facebook / Follow us on Twitter