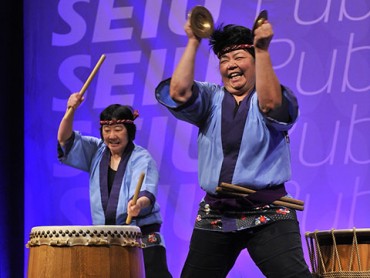 'Corporatization' of college means those without tenure have no real voice in governance
Religious colleges may not be able to stop their contingent faculty from unionizing, under a National Labor Relations Board ruling involving Pacific Lutheran University in Washington state.
That's because the board found those PLU employees are neither "managerial" nor perform religious duties – setting up a "new test" that "appears to radically depart from at least 30 years of precedent," the university said after the ruling.
The dispute turned on whether providing a "religious educational environment," as PLU does, exempts an institution entirely from federal labor law, and whether full-time contingent faculty members are "managerial" and thus disqualified from unionizing.
The board essentially said that the rise in administrators at many colleges means that full-time contingents can't have much role in faculty governance.
Contingent faculty at PLU held their election to join the Service Employees International Union (SEIU) more than a year ago but the administration immediately challenged their right to organize, so the ballots were impounded, according to The News Tribune. 
The ruling could have domino effects nearby right away: The Seattle Times reported that contingent faculty at Seattle University also had their ballots impounded when they voted whether to join SEIU in April.
PLU spokeswoman Donna Gibbs told the Times that 39 of the school's 176 contingent faculty are full-time, earning $33,000 to $100,000 in addition to benefits. The concern, she said, is that if some faculty are part of a union contract and others are not, "this essentially splits the faculty in two."
Need a 'religious function' or a meaningful vote
The board voted 3-2 to let the contingents unionize. They said the board will exercise jurisdiction over a school unless it "first demonstrates, as a threshold matter, that it holds itself out as providing a religious educational environment."
If it meets that threshold, the school "must then show that it holds out the petitioned-for faculty members as performing a religious function" in order to be exempt from the board's jurisdiction.
The majority admitted it was junking more than 30 years of its own rules on how to determine "the managerial status of university faculty."
It said the "corporatization" of higher education, in which schools are "increasingly run by administrators," means that today's contingent faculty have a "unique, temporary relationship" with their schools and little role in "helping shape the academy as a whole" at their schools.
PLU's full-time contingents have "limited participation in decisions affecting academic programs," the majority said: "These decisions originate in the divisions, schools, and various academic departments within PLU," and the school hasn't shown these faculty "have the right to vote on such matters at this level."
PLU spokeswoman Gibbs told the Times that all contingents have "a voice" in the faculty assembly, and 22 percent of those can vote. But putting them all together in a union "equates" full-time professors who have research duties "with the person who teaches one course" only, she said.
'Changing the rules in the middle of the game'
"I hope our administration will finally choose to talk to us about our working conditions rather than continuing to spend tens of thousands of education dollars pursuing an anti-union legal strategy," Jane Harty, a PLU music lecturer, said in a news release by Adjunct Action, the SEIU's organizing effort for contingent and adjunct faculty.
PLU may yet spend more money fighting, this time in federal court, depending on what the vote count reveals.
The school "has no avenue to appeal this decision until the election results are final," Provost Steven Starkovich said in the school's statement.
Starkovich said the new NLRB test "appears to have exactly the same constitutional defects as the prior, now discredited, test. It smacks of changing the rules in the middle of the game."
The school made the argument that it's not like other schools that have come to rely heavily on contingents.
The "vast majority of student credit hours" are taught by tenure-line faculty and full-time contingents, PLU pays more per course than average in the region, and the only faculty on an hourly wage – $51 per hour – are private music instructors, the school's statement said.
Harty, the music lecturer, told the Times she and her colleagues still have worse working conditions than tenured professors: Her building doesn't have hot water or Internet access, for example.
College Fix reporter Samantha Watkins is a student at Point Loma Nazarene University.
Like The College Fix on Facebook / Follow us on Twitter
IMAGE: SEIU/Flickr