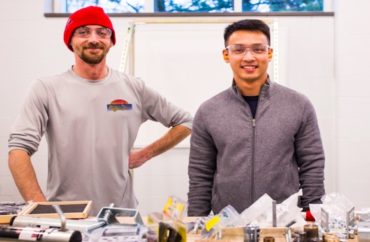 Reinforced stereotype that engineering is 'unfriendly to women and other non-male identifying individuals'
A female journalism major at Shippensburg University wants an apology from the school for a photo featuring two male students with the caption: "This is what an #engineer looks like."
Allyson Ritchey, the assistant PR director for the student paper The Slate, said that early last month the official Shippensburg U. Instagram page posted a pic of "two male-presenting students" (pictured), but less than a day later changed the original caption to "Hands-on learning at the Milton and Doreen Engineering Lab!"
Despite the change, there was "no comment or apology publicly made," Ritchey wrote, adding that "if an offensive post is made […] an apology should be made. Simply changing the caption is like putting a bandage on the situation."
She added: "For a university that, according to its own website, 'celebrates diversity' to make such a claim about engineers is insensitive and discrediting to the students at Shippensburg who do not fall into the stereotype. This brings forth the societal notion that engineering is unfriendly to women and other non-male identifying individuals."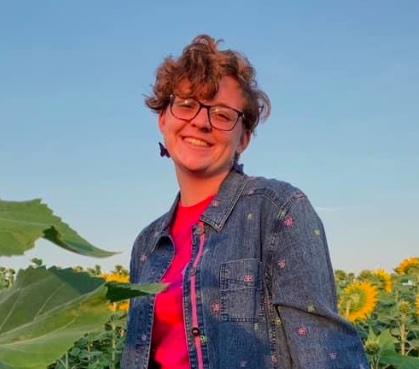 Ritchey (pictured) cited a Harvard Business Review stat stating engineering is "the most male-dominated field in all of STEM" and may be in the entire U.S. She also quoted a female Shippensburg engineering student who said that, while she enjoys her major, the overabundance of males makes it "very difficult to fit in and make friends."
This student recounted how a male engineering professor once made a joke about "how men and women will never understand each other or be able to work together," while another had described his "ideal engineer" using exclusively he and him pronouns.
MORE: Harvard engineering profs now required to submit diversity reports
"I was very disappointed that Shippensburg would be so careless as to post that caption without a second thought as to how unrepresented non-masculine presenting people in engineering would feel," the student said about the original Instagram post.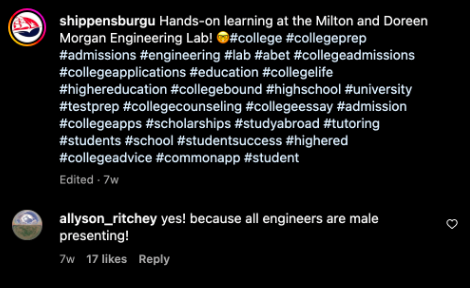 Ritchey wrote that "it is through what I have learned in my classes that I am willing and able to amplify the voices and experiences of injustice for women and others in the engineering school."
Ritchey is a communications, journalism and sociology major with a minor in women's and gender studies.
Shippensburg's engineering school got a makeover in October thanks to an undisclosed financial gift from Milton and Doreen Morgan, for whom the school is now named.
The couple's donation includes "an engineering scholarship endowment, an engineering research endowment, equipment and instrumentation for the engineering laboratory, and […] seed funds for student projects."
In contrast to the December Instagram photo and caption, video stills on the Morgan School of Engineering website prominently feature an African American male and a white female: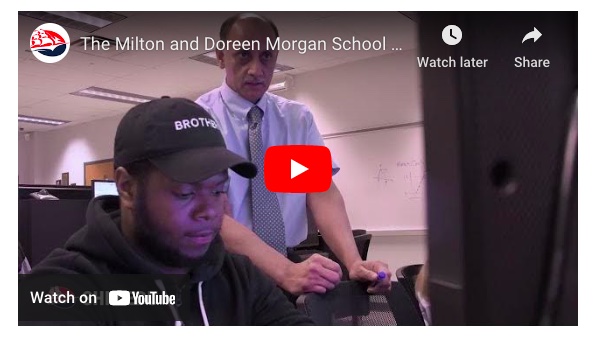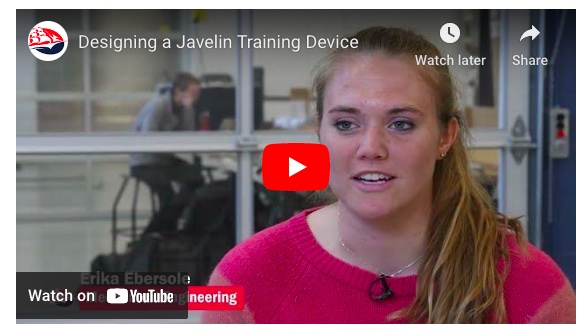 MORE: UMich 'anti-racism grants' include $50,000 for 'anti-Blackness' in engineering study
IMAGES: Instagram/Shippensburg U.; Shippensburg U. website screencaps
Like The College Fix on Facebook / Follow us on Twitter