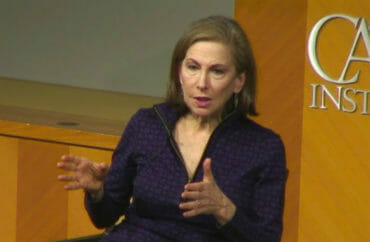 Student activist can't argue the facts, so she name-calls
Emily Yoffe has done more than perhaps any journalist to highlight the marginalized victims of what she calls the "campus rape overcorrection": men of color, particularly African Americans.
But because she argues that Title IX has been weaponized against those who are least able to defend themselves, she's insufficiently woke to appear at her alma mater, a women's liberal arts college.
That's according to a student activist who published an op-ed in The Wellesley News the day before Wellesley College hosted Yoffe through its Freedom Project, which promotes "tolerance, pluralism, intellectual diversity, and freedom of expression."
Yoffe's Nov. 14 event was focused on how "a well-intended policy designed to address sexual misconduct injustices against young women has created a system of injustices against the accused," referring to the Obama administration's since-rescinded Title IX guidance.
It has instead "expanded definitions of misconduct to encompass almost any sexual behavior on campus, and promulgated pseudo-scientific assertions that undermine women's agency,"  according to the event description. (It does not appear to be posted on any Wellesley video archive.)
MORE: Campus kangaroo courts target nonwhite men, and it's an open secret
Becca Pachl, who transferred to Wellesley after getting a scholarship for its Contemporary Women's Leadership program, denounced her college not only for "its sanction of Yoffe's lecture on campus" but also the timing of the event.
Yoffe is not a "champion of women and minority rights" as portrayed, but a victim-blamer who casts doubt on Title IX, #MeToo "and the validity of sexual assault survivors' experiences," Pachl wrote: "Yoffe has purported [sic] a toxic ideology of rape and consent that emboldens sexual violence."
Wellesley allowed the event to happen "a mere month" after Brett Kavanaugh was confirmed to the Supreme Court, Pachl continued: It is "undeniably implicated in Yoffe's narrative that contributes to ––  not subverts –– the disempowerment of marginalized communities."
She accused Wellesley of being "negligent in ensuring the well-being of its student survivors," apparently because of its "silence during the Kavanaugh hearings," which caused "secondary trauma" for campus victims.
Pachl waited until the final sentence of her op-ed to claim that she was raped at her previous college:
Wellesley College hosted no vigil (besides an event led by survivors themselves), failed to increase their counseling or emergency support, and left survivors to feel isolated, given that no group-counseling exists for survivors. President [Paula] Johnson never even publicly spoke on the issue, with just the Vice President issuing a lack-luster email about how survivors can help themselves if the news cycle has them feeling down.
MORE: 11 times young black men were railroaded by campus sexual assault claims
I'm grateful to the Wellesley College Freedom Project @WellesleyFP for inviting me to my alma mater to speak about Title IX and #Metoo. Thanks for the wonderful turnout and the lively discussion. Impressive Wellesley students make me more optimistic about our future.

— Emily Yoffe (@EmilyYoffe) November 15, 2018
Yoffe's values contradict her alma mater's because she criticizes "affirmative consent," which is Wellesley's standard for sexual consent, Pachl wrote. She characterized the policy as "quite simple" and a matter of communication before and during "the act."
Affirmative consent, in fact, requires the supposed initiator to request and receive consent continuously throughout every part of a sexual encounter, as judged by the supposedly passive recipient. It requires an accused person to prove they received consent but functionally deprives them a way to show it.
Pachl doesn't argue with Yoffe's statement that the oft-cited 1-in-5 statistic for campus sexual assault includes conduct that falls short of any common understanding of sexual assault, such as "kissing" and "being groped over one's clothes." Rather, the student activist asks rhetorically "is this experience [of lesser subjective violations] not worthy of censure as an act of rape?"
The student activist, who is not black, does not attempt to argue with Yoffe's suggestion that the campus rape overcorrection disproportionately targets men of color, particularly African Americans.
Instead, Pachl challenged the Freedom Project's portrayal of the discussion as "intersectional," and claimed that Yoffe "further proports [sic] standards of rape that sanctify violence against women, especially women of color":
Yoffe also fails to connect that gendered violence is closely related to white supremacy, a well-researched phenomenon aptly described in the Anti-Defamation League's report: When Women are the Enemy: The Intersection of Misogyny and White Supremacy. Yoffe also ignores sexual assault and rape as an issue existing outside of a heteronormative, gender binary — an unsurprising fact given that Yoffe has a history of ignoring LGBTQIA+ issues and once went so far as to suggest to a bisexual reader that she would be better off staying in the closet. Yoffe has made a career of minimizing the autonomy of survivors and the severity of violence against women on college campuses, contributing to a narrative that disempowers women and other marginalized groups. In exercising her constitutional right to express her views, Yoffe has neglected any responsibility for the way her ideas reinforce pervasive systems of inequality, like rape culture and white male supremacy.
Pachl said "several faculty members" had expressed concerns about Yoffe coming to campus at a faculty-staff forum, but none addressed the "larger problem: Wellesley College's striking apathy towards sexual violence, especially in regards to the way it deeply affects hundreds of its students."
Read the op-ed, which was also posted in alumnae blog Wellesley Underground.
MORE: Memory, neuroscience experts warn Title IX training driven by junk science
IMAGE: Cato Institute
Like The College Fix on Facebook / Follow us on Twitter