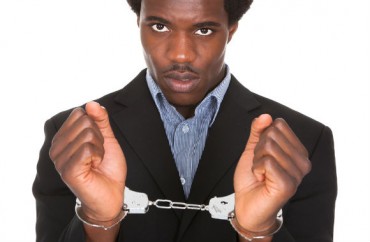 In 2011, the Obama administration told universities to implement judicial policies that benefited students who accuse peers of sexual assault. This guidance stripped away most of the due process rights for the accused, throwing their basic constitutional protections out the window in favor of believe-the-survivor procedures within Title IX campus tribunals.
Last year, under the Trump administration, the Department of Education rescinded Obama's regulatory guidance — but the damage has already been done.
Six years' worth of dismal due process rights for the accused has led to hundreds of young men fighting sexual assault claim allegations in court. Even more concerning, this lack of protection has rendered one group particularly vulnerable — young black men.
According to the Center for Prosecutor Integrity, a nonprofit group that fights the "over-criminalization" of sex-related activities, there's "parallels between the treatment of Black men accused of rape during the infamous Jim Crow period, and the adjudication of sexual assault cases in the current era."
Harvard Law School Prof. Janet Halley, who has served both accusing and accused students in campus sexual-misconduct investigations, has said in written congressional testimony that male students of color are accused and punished at "unreasonably high" rates.
Former federal judge Nancy Gertner, who is Halley's colleague at Harvard, also pointed to "the racial implications of rape accusations, the complex intersection of bias, stereotyping, and sex in the prosecution of this crime" in written testimony to Congress.
Journalist Emily Yoffe wrote in a September 2017 article in The Atlantic about the phenomenon of black male students accused by non-black female students. She noted black men make up only about 6 percent of college undergraduates yet are "vastly overrepresented in the cases I've tracked."
Many black students have suffered mightily under false allegations or poorly administered campus tribunals. They're often suspended or expelled. Many had their promising sports careers derailed, too. Here are some of their stories.
1. Jury with no blacks quickly acquits black U. Tennessee football players in rape case
In July of this year, University of Tennessee football players A.J. Johnson and Michael Williams were acquitted after being falsely accused of rape nearly four years ago. Their accuser allegedly participated in group sex willingly and only called it rape when she realized "there might not be a way to keep this [group sex] secret." It ended the lengthy nightmare for the football players, who claimed their white accuser willingly participated in group sex at a party.
BREAKING: Former Vols AJ Johnson and Michael Williams found NOT guilty on all counts in rape trial. pic.twitter.com/gXMSp7RNS1

— Everything TN (@Everything_TN) July 27, 2018
2. Student admits to making up gang-rape story to gain sympathy from potential boyfriend
A Sacred Heart University student admitted she made up her gang-rape story to gain sympathy from a potential boyfriend. The two football players she accused were suspended and had their scholarships revoked after she fabricated the false allegations. She had alleged the two players pulled her into a bathroom and took turns raping her, but witnesses, and the players, said the sex was consensual. Last month, the two players sued the student and the school in a civil suit for slander and infliction of emotional distress. The accuser was also sentenced to one-year in prison after pleading guilty to falsely reporting an incident and interfering with police.
"My life will never be the same." Victim who was falsely accused of rape speaks out during sentencing of Nikki Yovino. pic.twitter.com/h89FZezudj

— Marcus Solis (@MarcusSolis7) August 23, 2018
3. University of Pennsylvania sued for racism by black man accused of rape
A University of Pennsylvania student sued the school in 2016 for $600,000, claiming the process was biased against him because of his race and gender. The suit accused the Ivy League school of believing the stereotype of "the young African American male as aggressor." The student also claimed officials didn't even tell him what the allegations were before the school's investigative report came out recommending him for expulsion. The accuser's defense stated she couldn't consent because she had been drinking, a claim the student refutes, saying she wasn't even intoxicated, let alone incapacitated. To back up this claim, the student stated that the accuser was "fully awake" the whole time and that she even stayed there that night, asking him to set an alarm so she could get up for work and sleeping with him. In November 2017, Penn privately settled with the student after a judge found the university discriminated against him based on his gender.
4. Basketball players accused of rape sue university for trying them in 'sham court'
Two University of Oregon basketball players sued the school for $10 million each for trying them for rape in an "unconstitutional 'sham court' of the very worst order." The lawsuit came on the heels of another lawsuit just five months earlier from one of their other black teammates for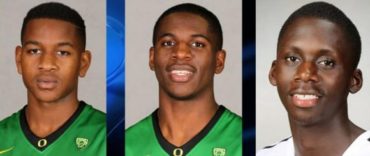 depriving him of his due process rights for nearly the same thing. The newer lawsuit claimed that the accused weren't allowed to subpoena witnesses, obtain redacted reports, refused to provide a contested case hearing, refused cross-examination, refused due process, and engineered a "kangaroo court" hearing. The three players were banned from the university for 10 years. Important to note: the local district attorney didn't charge any of them because of "conflicting statements and actions by the victim." More recently, after a judge dismissed the men's lawsuits, the three have plans to reportedly take their cases to the 9th U.S. Circuit Court of Appeals. (RELATED: U. of Oregon paid rape accuser $800,000 and full tuition so it could move on).
5. University expelled black athletes for uncorroborated rape claim by white woman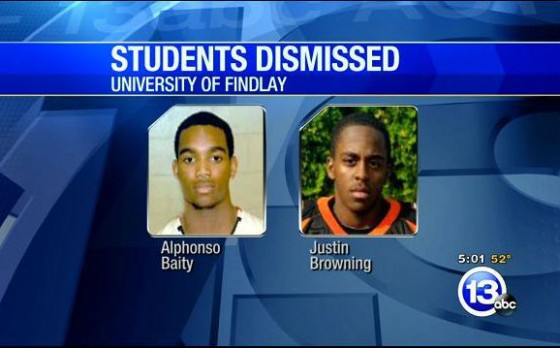 Two black student-athletes at the University of Findlay were expelled after a one-day investigation into rape allegations, which lacked any corroboration. In fact, the only corroboration was from two white female students and was in favor of the accused students. The lawsuit alleges that the accuser was "bragging" about the sex just days before she flipped her story and accused the young men of sexual assault. What's more, the lawsuit claims campus officials threatened witnesses whose testimonies supported the young men. Making matters worse, the University of Findlay publicly identified them as rapists while they were still appealing their expulsions, their lawsuit claims. While their suit is pending, their sports careers are over.
6. Jury to decide if Brown University railroaded student in Title IX case because he's black
A black student athlete accused of sexual misconduct by a white student has painted "a picture of an ongoing, racially discriminatory pattern of conduct" committed by campus officials, a federal judge ruled in August 2018. Brown University lost its motion to dismiss all claims by "John Doe," meaning it's going to face trial on allegations that it discriminated against the accused. Here's the backstory: The school opened an investigation into a claim made by a white female sorority sister claiming sexual assault. Well, the accused recalled the exact opposite, that the girl was the aggressor, claiming she bit his lip, choked him and restrained him against the wall as he tried to leave. Brown initially charged him with "nonconsensual contact involving violence or intimidation," but later dropped the violence part. All of this was before the school threatened to charge the accused student with vandalism after he threw himself in front of a car in a suicide attempt, breaking the windshield.
7. Colorado State University-Pueblo pays out to falsely accused student  
In a slight turn of events, a public university had to pay the alleged rapist a settlement. Football player and wrestler Grant Neal was falsely accused of sexual assault for having consensual sex with an athletic trainer. However, it wasn't the trainer who alleged this, it was the trainer's friend, who saw a hickey on her and thought it must be rape. Neal was suspended after the school's director of inclusion and diversity concluded he had "engaged in non-consensual sexual intercourse" with the trainer. Neal wasn't allowed to come back to the school until the trainer graduated, and he lost his football and wrestling scholarships. He then sued the school for discriminating against him for being male. The lawsuit stated that the school wouldn't even acknowledge that the trainer – the alleged victim – said she considered the sex consensual. In the summer of 2017, the student ended up settling with the school for an undisclosed payout.
8. Blair Academy expels black student, but not white partner, for sex video they made
In this instance, a black high school student-athlete and a white female student recorded a sex video together, but only the black student was expelled. In the video, the girl performed oral sex on the student as he recorded it for around 20 seconds. After they made the video, they allowed some of their friends to view it before deleting it. When school officials found out, they expelled the black male, but not the white female. When asked how this was fair, the associate head of the school said the white student was the victim. The student is suing the school for violating Title IX and a New Jersey law making it illegal to discriminate based on race.
9. A fist bump and a selfie gets an autistic student two Title IX investigations
Marcus Knight was a student at Saddleback College who was subjected to two Title IX investigations – one for a fist bump with a girl, the other for taking a selfie with another. Both women consented to the actions before filing sexual misconduct reports. In the fist bump, Marcus was in the student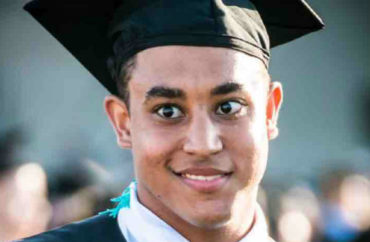 services office when he asked a student for a fist bump. The student agreed, then soon filed a Title IX complaint. The school then held a meeting with Marcus and his mother, calling it "inappropriate behavior." After getting frustrated at this claim, Marcus's mother asked a series of questions: "Did he touch her? Did he hug her? Did he follow her? Did he try to get her phone number? Did he expose himself?" After the coordinator of the meeting answered "no" to each, his mother responded by saying, "Then stop calling it inappropriate. He's just trying to make a friend." Marcus, who is autistic, was then forced to bring a personal assistant to every class. The next incident involved Marcus taking a selfie with a female student. The student agreed to the selfie but alleged sexual harassment when Marcus touched her shoulder during the photo. Marcus's mother says his cerebral palsy causes his hand to stiffen when his arm is fully extended. According to Marcus's mom, the stress from the investigation gave Marcus severe anxiety and depression, sending him to the ER with stress headaches. Marcus was eventually allowed to come back on campus, though, he still must have his personal assistant.
10. Harvard hit with first Title IX lawsuit by accused male, alleging racial discrimination
A lawsuit filed this month accuses Harvard University of discriminating against both "John Doe," who was suspended until fall 2019, and his accuser, because they are African American. Both had requested "informal resolution" of their dispute, but Harvard denied it based on the "seriousness" and "severity" of Doe's alleged behavior and the "potential risk of a hostile environment" for other students. The lawsuit states the process was unfair to the accused student. The school allegedly wouldn't hold an in-person meeting, withheld evidence to "coerce" him, and only interviewed witnesses to help the accuser. When the students tried to solve it privately through informal resolution, Harvard denied the request. The lawsuit claims white students would have been allowed to resolve it.
11. UNC rape case shows how accuser can ruin innocent person's life with doctored evidence
This is a case in which the university didn't do the railroading, the accuser did. Allen Artis, a UNC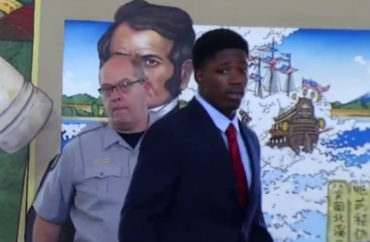 football player, was publicly branded as guilty by a lawyer for the accuser who found a loophole in North Carolina law that allows citizens to to get a "civilian warrant." After the white female accuser alleged she was too impaired to consent, the school launched an investigation. They found the same thing the police found: she wasn't too impaired to consent. But the accuser and her lawyer went on a public tirade against Artis. They introduced evidence: a picture showing bruises on the girl's neck they said were from choking. The photo? Allegedly altered. The nurse at the hospital said the bruises were hickeys and there was no sign of choking. The lawyer who presented it got a bar complaint filed against her and was allegedly scalded by the judge for unethical behavior. The two sides finally agreed to mediation, and the charges were dropped, but not before Artis lost a year of football eligibility.
MORE: Campus kangaroo courts target nonwhite men: 'Nobody wants to talk about it'
IMAGE: Andrey Popov / Shutterstock
Like The College Fix on Facebook / Follow us on Twitter