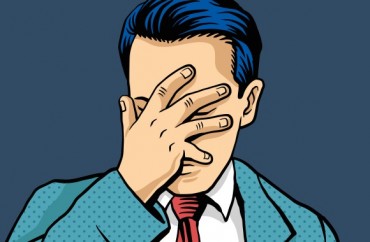 A feminist professor has discovered a new way to "empower" women: Refuse to move out of the way for men when you're on your way to work.
The University of Southampton's Charlotte Riley, a lecturer on 20th century labour party politics, writes in a New Statesman America op-ed that so-called "Patriarchy Chicken" is a way to take on how men have been socialized to "take up space."
Males, Riley contends, have been "brought up to believe that their right to occupy space takes precedent over anyone else's right to be there."
"They spread their legs on tubes [that's "subway" for us Yanks] and trains, they bellow across coffee shops and guffaw in pubs, and they never, ever give way," she says. Women, on the other hand, "have been socialised to give way, to alleviate, to conciliate, and to step to the side."
If you don't move out of the way for men, your commute changes. For one thing – I'm not going to lie about this – you do collide with a lot of men. This is where the name of the game comes from. You need to really commit to Patriarchy Chicken: don't let your social instinct to step to the side kick in. Men are going to walk into you: that isn't your fault.

Some men don't walk straight into you, of course. Some men find their brains overridden by the unfamiliar experience of a woman refusing to give way. Last week, on a busy train platform, a man was so confused by my trajectory towards him that he stopped dead in front of me, holding eye contact, and flapped his mouth like a fish. You will find that a lot of men just… stop. It is up to you to decide how to react to this.

It's also important to note that Patriarchy Chicken isn't about anger. Of course, you can put your head down, square your shoulders, glower, and power through. But in my opinion, the best way to play the game is cheerfully. Smile! Make eye contact! But never, ever give way.
But as The People's Ledger puts it, if every person with a Y chromosome behaved as Riley apparently believes, then "there would be no run-ins — there would only be collision and injuries.
"Sure, some men might not make a course correction to avoid a collision, but they likely wouldn't change course for a man, either. We call those men 'a**holes,' and the title is not limited to one gender or the other."
h/t: Instapundit
MORE: Feminism group launches at Liberty U. to counteract male-dominant leadership
MORE: University offers 'Hip-Hop Feminisms' course
IMAGE: Shutterstock.com
Like The College Fix on Facebook / Follow us on Twitter