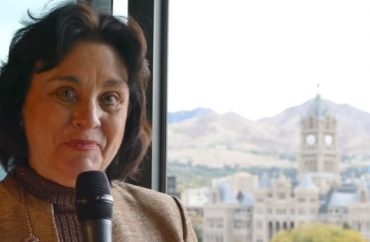 Dr. Jennifer Roback Morse taught economics at Yale and George Mason universities for 15 years, a dedicated career woman who had an abortion in her youth and mapped out her family plans based on the academic calendar.
But over the years — burdened with extreme guilt over her abortion and infertility struggles — she learned the feminist revolution's promises don't deliver, National Review reports in a new feature on her life journey.
Morse eventually had children naturally and through adoption and foster parenting, ultimately quitting her job as an economics professor and becoming a full-time mother, noting "without strong families, you can't have free markets or limited government."
Today, as the founder and leader of the Ruth Institute, she fights for traditional marriages and families, telling National Review that despite the country's progression toward secularism "the cause of truth is never lost. Hope is not a plan or a strategy. It's a supernatural virtue."
Tired of being hurt by hookups? You are not alone. http://t.co/grEym7I1ox #sexualrevolution #1m1w… pic.twitter.com/3abw6L4mp2

— Ruth Institute (@RuthInstitute) September 3, 2014
Known for her brutally honest assessments of the havoc feminism and the sexual revolution has wreaked on this nation, Morse offered some insights to National Review on pressing social conservative topics.
On single parenthood: "There's no such thing as a single parent. They've become dependent on other people in commercial transactions, such as their employers and child-care providers. A single mother may look like she's doing so much 'on her own,' but she has merely commercialized the things the father would have done."
On career first, motherhood second: It's a "careerist trap. … It's okay to get married, stay married, and do something later. You don't have to get on the career bandwagon."
On divorce: "This is the number-one lie of the sexual revolution: Kids are resilient. No, they're not. … Divorce has harmed lots of people and those people have harmed lots of people. We have to say this. Modern society tries to make guilt go away by saying nothing is ever wrong — that there's no right or wrong at all — and that's not true."
According to Morse, the victims of the Sexual Revolution are varied and many, and include: adult children of divorce; reluctantly divorced people; heartbroken career women; donor conceived persons; women who regret their abortions; pornography addicts and their families; and stay-at-home moms ridiculed for their choice.
At a conference she hosted in Southern California in 2014, she offered more words of wisdom, including a focus on the "heartbroken career woman." A heartbroken career woman is accomplished, professional, educated, perhaps well-to-do, but in her late 30s, 40s and 50s she has no or fewer children than she wanted, problems getting pregnant, and maybe not married.
"The heartbroken career woman is somebody nobody talks about, nobody admits she exists," Morse had said. "Whenever you call up the Sexual Revolution, this is the woman who will be trotted out, but what I am going to say to you is it hasn't really worked for that group of people."
Morse cited as an example her daughter's experience in an upper-level UC Berkeley demography class, taught by a woman professor who liked to make snide comments about Catholics' and Mormons' big families. Then one day the professor let it slip that every female professor she knew had infertility problems, and told the class' females to expect them, too.
"This is the deal women were offered by the Sexual Revolution, and it's a bum deal," Morse told the conference attendees. "You can participate  in college and (career) as long as you agree to chemically neuter yourself during your child-birthing years and go through dangerous fertility experiments during your 30s."
Morse continued that the Sexual Revolution says men and women are interchangeable, and that's a faulty premise.
"If you are going to try and build a whole society around premises that are false … it ends up expanding the power of the state and ends up being a totalitarian movement," Morse had said, noting that when the family falls apart it's the state that picks up the pieces, from divorce court decrees to social dependence programs.
The Sexual Revolution has made people more malleable to state control, she explained.
"A person that is addicted to pleasure is a person easier to control and manipulate," Morse said. "This is another way the Sexual Revolution has not let us free."
Morse is not the only professor who has experienced a change of heart. Check out these features on other scholars' journeys:
Lesbian Professor's Fall To Grace – The remarkable story of Rosaria Champagne Butterfield
Professor rejects Marxism after traveling the globe: 'Socialism doesn't work'
Like The College Fix on Facebook / Follow us on Twitter
IMAGE: YouTube screenshot