Top-down solution violates academic freedom, critic says
The boycott, divestment and sanctions (BDS) movement against Israel is "one of the greatest threats to academic freedom" in America today, aiming to "undercut the moral legitimacy of the State of Israel" more than harm it economically, according to a new report.
The American Council of Trustees and Alumni is sharing its report with college and university governing boards after a rise in anti-Israel incidents on campus, "from the politicization of curricula and academic associations to efforts to silence Israeli speakers to overtly anti-Semitic behavior on campus," it said.
BDS tactics "clearly conflict with the principles of academic freedom that enable students and educators alike to engage in open discourse, inquiry, and learning," including "institutional neutrality," ACTA President Michael Poliakoff, former vice president at the University of Colorado, said in a press release.
But ACTA's prescriptions could also violate academic freedom, according to a prominent critic of anti-Israel academic boycotts.
Define 'the boundaries between protest and disruption'
The report highlights disinvitation attempts and disruptive protests against Israeli speakers, including a pro-Palestinian group at the University of Texas-Austin that hired a lawyer to bring discrimination charges against a professor who invited a military historian.
It says that universities may even face "legal exposure" for not cracking down on BDS activism when it goes too far.
"Disorderly conduct (such as interrupting a lecture or blocking access to a sidewalk or roadway or using a bullhorn in proximity to a scheduled presentation) is not protected by the First Amendment, and when it targets Jewish events, it arguably does violate the Civil Rights Act," says the report.
MORE: Pro-Palestinian activists shout down Israeli scholar at UT-Austin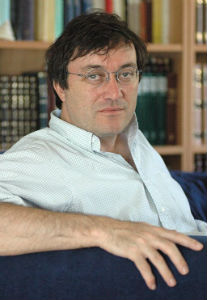 It cites an Israeli law professor, Moshe Halbertal, who was shouted down by protesters for 30 minutes when he spoke at the University of Minnesota in 2015. When they were arrested, the protesters accused the university of violating their First Amendment rights.
Other incidents occurred at Brown University, Florida Atlantic University and the University of California-Irvine.  ACTA said that in the 2014-15 academic year alone, at least 19 BDS resolutions or referendums were considered on college campuses.
ACTA recommends that governing boards "protect the core values of your school" by defining "the boundaries between protest and disruption" and imposing "severe sanctions for heckling invited speakers."
They should incorporate principles adopted by the University of Chicago, including its 1967 Kalven report on institutional neutrality, and "exercise your own freedom to condemn anti-Semitism" while protecting even hateful speech.
"While respecting academic freedom," the report concludes, "work with the president and provost to encourage departments and centers that address Middle Eastern affairs to ensure intellectually-diverse views across a range of scholarly opinion."
Demanding 'balanced views' is itself a threat
Not everyone has applauded these recommendations in full.
Cary Nelson edited the essay compilation The Case Against Academic Boycotts of Israel, which explores the role of anti-Semitism in the BDS movement.
But the University of Illinois professor told Inside Higher Ed that ACTA's recommendations "cross the line in themselves threatening academic freedom, namely by asking administrators and governing boards to ensure that departmental curricula offer balanced views of the state of Israel and the Israeli-Palestinian conflict."
MORE: Israeli academic silenced by antiwar, pro-Palestine campus activists
ACTA's Poliakoff told The College Fix in an email that the group cheered Nelson "for his efforts to oppose academic boycotts" like BDS and agreed "that faculty members are absolutely free to teach based on a rigorous and scholarly understanding of difficult subjects including Middle East affairs."
But he cited "the browbeating of Jewish students by faculty at Columbia," as well as the politically motivated denial of tenure to Brooklyn College History Prof. KC Johnson 14 years ago, as examples where "administrative and board intervention was appropriate to preserve academic freedom and intellectual diversity."
Yeshiva University President Richard Joel wrote last year that while his Jewish school has no BDS movement, "my students feel anger when, time and again, protest in the name of BDS morphs into vehement anti-Zionism and, yes, ugly anti-Semitism."
He said the movement "paints in deceptively broad strokes an issue that is deeply complex," ignoring Israel's "considerable human and material capital, including academics, regardless of political orientation, and technology, regardless of positive utility."
Poliakoff told The Fix that a professor should "above all, remember that his business is not to provide his students with ready-made conclusions, but to train them to think for themselves."
But ACTA is not saying their speech should be limited: "That would be to betray their fiduciary responsibilities to students, their parents, and to taxpayers."
MORE: Higher ed group's new leader pledges crackdown on foolish university leaders
Like The College Fix on Facebook / Follow us on Twitter
IMAGE: amid999/Shutterstock, Tzahy Lerner/Wikimedia Commons, Don LaVange/Flickr