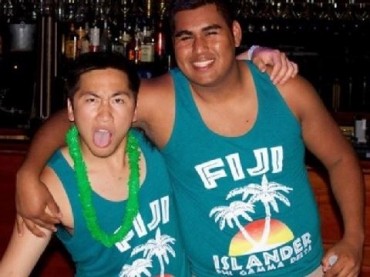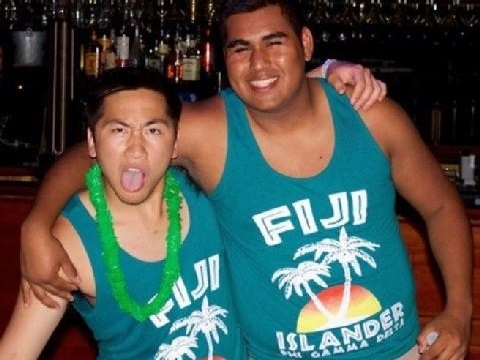 No indication fraternity will kowtow to pressure after student government, Asian Pacific student group demands it stop using the venerable 'FIJI' moniker
The 166-year-old Phi Gamma Delta fraternity, which for more than a century has used FIJI as its nickname, is apparently not backing down from the moniker, even after some students called the frat racist for using it.
Numerous requests for comment by The College Fix to the national chapter of the organization to speak on the allegations went unreturned, but its website still prominently displays the FIJI brand in photos and wording.
Likewise, the Phi Gamma Delta website for UC Irvine, where the controversy unfolded, maintains pictures and wording to indicate its members will also not kowtow to the pressure. In addition, the UC Irvine chapter's Facebook page still has the words "FIJI" in the title.
While recent history shows that often campus student and Greek groups are quick to apologize when accused of offending other cultures, it appears this fraternity is not willing to buckle under such pressure.
The controversy stems from a fundraiser in May called the "FIJI Islander Party" at which the UC Irvine Phi Gamma Delta fraternity members and guests wore Island-inspired garb such as grass skirts and coconut bras.
But student government leaders and the Asian Pacific Student Association not only condemned the fundraiser as offensive and insulting to the Fijian culture – but took it one step further, denouncing the fraternity's venerable nickname as racially insensitive.
"It is too often that fraternities and sororities choose racist themes for their parties and events," the Asian Pacific Student Association stated in condemning the fraternity. "APSA at UCI will not tolerate, be silent, nor be complicit in acts of cultural appropriation that hurt marginalized People of Color communities because they maintain and fortify white male hegemonic structures."
The association, in its statement, demanded that the Phi Gamma Delta fraternity strip the name "Fiji Islander" from their philanthropy event, cease the use of coconut trees and other "stereotypical displays," and even end the use of "FIJI" as their fraternity's nickname – a name that has been used since 1894.
They asked for a public apology from Phi Gamma Delta – one that demonstrates "that they acknowledge the racist nature of both their appropriation of the 'Fiji' name and their conduct at the 'Fiji Islander' party."
In late May, the student government voted 14-0 to condemn that FIJI fundraiser, form an ad hoc committee to explore the accusations against the Delta fraternity and, in meeting with university officials, determine a proper punishment for the fraternity, The Daily Pilot reported.
On UC Irvine's Associated Students website, a meeting agenda from May 27 acknowledges that the ad hoc committee was created, and even goes as far as deciding that "silence or action" among the accused fraternity and other Greek organizations on campus "would reinforce the racism against, dismissal of, and silencing of Fijian and Pacific islander student voices."
However, the student government has no authority to force the fraternity to make such changes. UC Irvine student government leaders, nor UC Irvine campus officials, have responded to requests for comment this month by The College Fix to discuss the subcommittee's outcome.
Meanwhile, the fraternity stands proud.
As recently as late June, the "FIJI Islander Week" is still touted on the fraternity's website as such, as they describe it as "a competition between sororities and their FIJI coaches as they battle it out in crazy games to raise money for Red Cross."
They also note that last year this event raised over $5,000 for Japan tsunami relief.
In addition, the corresponding social event, known as "FIJI Islander," is also still advertised on their website as a "nationally recognized classy social event."
What's more, the UC Irvine chapter is actually "ethnically comprised more by members whose lineage hails from South and East Asia than those whose bloodlines originating in the cool climes of Northern Europe," writes Timothy Whiteman in the Examiner. Whiteman is described in his tagline as being of Pacific Islander heritage, a "descendant of the Chamorro people of the Micronesian Marianas Islands."
Members of European heritage are actually in the minority, Whiteman notes, saying it is "not quite the bastion of Caucasian domination as depicted."
"Someone really needs to get lei'd," quipped Whiteman in his piece.
Still, administrators pounced on the controversy.
"The administration and student affairs is using it as an opportunity to show to fraternities what cultural appreciation is and how they might be more sensitive, to be able to have their week of philanthropy that ends in a social event without offending others," Cathy Lawhon, a UC Irvine spokesperson, told Campus Reform.
Lawhon had added the fraternity would not be punished because the fundraiser was not a conduct violation.
College Fix contributor Andrew Desiderio is a student at The George Washington University.
Like The College Fix on Facebook / Follow us on Twitter
IMAGES: Main, Facebook screenshot; Inside – FIJI website
Like The College Fix on Facebook / Follow us on Twitter