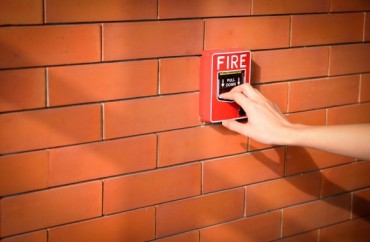 How curious that fires keep breaking out when students are hearing unpopular perspectives on campus.
Forty minutes into a University of California-Irvine screening of the documentary Can We Take a Joke? – which explores the stifling political correctness on campus – a fire alarm went off, immediately ending the event, New University reports.
RELATED: Campus speaker touting men's rights has fire alarm pulled on her
Last week's screening was organized by the campus chapters of College Republicans and Young Americans for Liberty (YAL) for their "Freedom Day" celebration, which also included a "free speech wall" where students could write anything they want.
Freedom Day promoted "a person's right to freedom of speech without fear of reproach in the face of political correctness," New University said.
Hmmm. UCI students plan to show @CanWeTakeaJoke, receive threats, then fire alarm ends screening https://t.co/6T6ZP6vhU1 @RealGilbert

— Can We Take a Joke? (@CanWeTakeaJoke) April 19, 2016
Though there's no suspect for who pulled the alarm or why, the most plausible explanation is someone didn't like the film and didn't want others to experience it.
RELATED: New documentary 'Can We Take a Joke?' to be screened on college campuses
YAL President Cole Hubbard said Freedom Day organizers "began receiving threats of protest" after it was announced:
"We were looking forward to showing this film, we think it plays well across a wide range of audiences and would have sparked a healthy conversation about free speech and censorship," said Hubbard. "I think there's great irony in that, an alumnus of UC Irvine, and his creation, his project, something we here at UC irvine should really be valuing was shut down by possibly somebody who was angry by what we were doing."
Can We Take a Joke? was made by Ted Balaker, a UC-Irvine grad.
h/t Greg Lukianoff
RELATED – VIDEO: Violence erupts as protesters block entrance to conservative's speech at public university
RELATED: College's 'Zoolander 2' screening canceled because movie mocks 'marginalized identities'
RELATED: Protest, tension at University of Maryland's 'American Sniper' screening
Like The College Fix on Facebook / Follow us on Twitter
IMAGE: Shutterstock