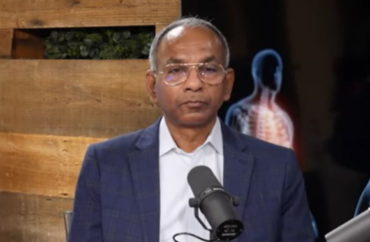 A former Texas biology professor has filed a religious discrimination charge with the U.S. Equal Employment Opportunity Commission against his former employer, St. Philips College, alleging administrators fired him for teaching sex is determined by X and Y chromosomes.
The EEOC complaint is the first step in filing a lawsuit against the school.
Former adjunct Professor Johnson Varkey, who is Christian, alleges in his July 25 complaint that St. Philip's College "violated Title VII of the Civil Rights Act when it terminated me because of my sincerely held religious beliefs and protected speech."
Varkey's firing came after four students walked out of his class in November 2022 in an act of protest, allegedly in part over his teaching that X and Y chromosomes determine sex in humans.
Varkey's letter of termination, included as an exhibit in the complaint, stated the school had "'received numerous complaints' about his 'religious preaching, discriminatory comments about homosexuals and transgender individuals, anti-abortion rhetoric, and misogynistic banter.'"
In the EEOC complaint, Varkey stated claims he "preached" in class are false and instead are linked to his service as a pastor, which allegedly resulted in discrimination against him by St. Philips College.
"While I never preached or proselytized in class, the accusation of religious preaching was clearly in connection with the fact that I serve as an associate pastor," Varkey stated in his complaint. "I would mention this by way of introduction at the beginning of each semester, so my students were aware."
"The college assumed I was preaching rather than teaching due to negative, discriminatory stereotypes about Christians. This perception was inaccurate and discriminatory. If not for my beliefs about gender, sexuality, and human life, I would not have been fired."
Varkey said his lessons are based on standard principles about biology and reproduction.
"During my lecture on the human reproductive system, I stated that human sex is determined by chromosomes X and Y, and that reproduction must occur between a male and a female to continue the human species," he stated in his complaint.
"I also explained that when a sperm (which has 23 chromosomes) joins with an egg (which also has 23 chromosomes), a zygote (which has 46 chromosomes) is formed, and it begins to divide, and after 38 weeks a baby is born," he stated.
"Because no information is added or deleted in those 38 weeks, life starts when the zygote begins to divide, not when the baby is born. In the course of teaching Human Anatomy and Physiology, I made these statements in every class for 19 years, without any incident or complaint."
The complaint points out that during Varkey's nearly 20-year employment as a biology professor at St. Philip's College, he consistently received exemplary performance reviews and was never subjected to discipline.
Varkey is represented by First Liberty Institute, whose spokesman Chris Freund told The College Fix that St. Philips is suppressing academic freedom by firing Varkey.
"Public universities have no business firing professors simply because they hold a different view than their students. Academic freedom is important because without civil discourse or the free exchange of ideas within a classroom, freedom of thought is destroyed," Freund said.
Keisha Russell, who serves as counsel for First Liberty, accused the school of terminating Varkey's employment to satisfy a small group of students.
"No college professor should be fired for teaching factual concepts that a handful of students don't want to hear," Russell said in a July 31 news release. "Dr. Varkey received exemplary performance reviews for nearly two decades, teaching fact-based, widely accepted science. But now that cultural elites are at odds with these ideas, the school no longer supports professors who teach them."
Varkey is not the first conservative professor to be fired by St. Philips College in recent months.
The school in March fired Professor Will Moravits after a student accused the instructor of saying "the LGBTQIA+ community is riddled with pedophilia." However, two students from the class subsequently filed affidavits disputing that Moravits ever made the comment, The College Fix reported.
"Without my consent, employees packed up my property and took it to another location where I was allowed to pick it up under police supervision," Moravits told The Fix.
Freund told The Fix he believes Moravits' and Varkey's firings are part of a pattern of discrimination against conservative academics by St. Philips College.
"Both cases show a pattern of discrimination: St. Philip's College is silencing free speech and academic freedom," Freund said.
St. Philips College did not respond to requests from The College Fix seeking comment.
MORE: Professor made student 'uncomfortable' with open debate, gets fired
IMAGE: YouTube screenshot
Like The College Fix on Facebook / Follow us on Twitter