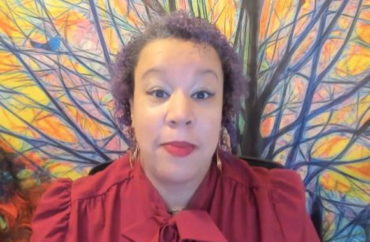 Colleagues also told Lee her diversity project was 'unacceptable' because it wasn't about 'decentering whiteness'
Tabia Lee, a former community college DEI director who said she was fired for resisting woke orthodoxy, described an authoritarian and insulting workplace in a new first-person account of her ordeal.
Lee served at California's De Anza College in the role of faculty director since 2021.
"I'm not going quietly," Lee (pictured) told The College Fix in an exclusive interview last month. "I cannot do that and I won't do that."
She's made good on that promise by continuing to sound the alarm on what she experienced as a black woman fighting for true diversity, equity and inclusion on campus.
Lee, in a March 31 essay for the online magazine Compact, wrote that "my crime at De Anza was running afoul of the tenets of critical social justice, a worldview that understands knowledge as relative and tied to unequal identity-based power dynamics that must be exposed and dismantled."
"This, I came to recognize, was the unofficial but strictly enforced ideological orthodoxy of De Anza—as it is at many other educational institutions," she wrote in the piece, titled "A Black DEI Director Canceled by DEI."
Lee stated that some of her adversaries on campus called her a "dirty Zionist" and a "right-wing extremist" for inviting Jewish speakers to the college to discuss antisemitism and the Holocaust.
Lee also described forming a "Heritage Month Workgroup," a project to create a calendar celebrating multiple heritages and religious holidays. The student government approved it, but her dean and other colleagues told her the project was "unacceptable, because it didn't focus on 'decentering whiteness.'"
When Lee later asked the academic senate to support the workgroup, one of her colleagues questioned whether the group was "all about the Jewish-inclusion stuff you have been pushing here," Lee wrote.
The same person claimed that the group should be denied support because Lee was trying to "turn [de Anza] into a religious school." Based on this claim, the school senate refused to the fund the group, Lee stated.
Mere hours after the senate meeting discussing the Heritage Month Workgroup, "a group of colleagues attended the Foothill-De Anza Board of Trustees meeting and called for my immediate termination," Lee wrote.
Asking questions and including multiple interpretations are "an existential danger" to those in the grip of critical social justice ideology, Lee wrote. Even more, "her case, sadly, isn't unique," she added.
"Faculty are under pressure to profess their allegiance to this particular set of dogmas and to embed a certain way of talking and thinking about race into their course curriculum," Lee wrote.
Nonetheless, Lee believes there is cause for hope.
"Since my firing, I have been contacted by scores of people who have said that they are attempting to resist similar pressures," she wrote.
"As bleak as things may seem, there are many who still believe in academia as a space where divergent viewpoints can and must be explored."
Lee is a cofounder of Free Black Thought,  which "seeks to represent the rich diversity of black thought beyond the relatively narrow spectrum of views promoted by mainstream outlets as defining 'the black perspective.'"
MORE: Antisemitic college incidents up by more than 40 percent in 2022: ADL report
IMAGE: FAIR Twitter screenshot
Like The College Fix on Facebook / Follow us on Twitter