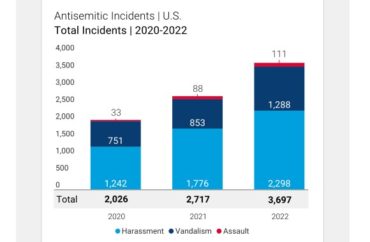 'This is the third time in the past five years that the year-end total has been the highest number ever recorded,' group states
Over 200 incidents of antisemitism took place on American college campuses in 2022, part of an overall increase of such incidents by more than a third.
Antisemitic acts of harassment, vandalism and assault on college campuses were up by 41 percent in 2022, with 219 incidents, according to an audit by the Anti-Defamation League released earlier this month.
The ADL's report tracked actions of "harassment, vandalism and assault targeting Jewish people and communities" in 2022.
"In 2022, ADL tabulated 3,697 antisemitic incidents throughout the United States," according to the report's executive summary. "This is a 36% increase from the 2,717 incidents tabulated in 2021 and the highest number on record since ADL began tracking antisemitic incidents in 1979."
"This is the third time in the past five years that the year-end total has been the highest number ever recorded [since 1979]" it stated.
Several antisemitic incidents were reported recently at elite Stanford University.
Antisemitic drawings were found on the door of a Jewish Stanford undergrad on March 10, the latest in a spate of reported actions targeting Jewish people at the university in recent weeks, The College Fix reported.
That incident was the third documented report of antisemitic acts in two weeks at Stanford, and the fourth this quarter, according to the Stanford Protected Identity Harm Reporting website.
Antisemitic actions were up in all categories, according to ADL
The ADL's report stated that "incidents increased in each of the major Audit categories: antisemitic harassment increased 29% to 2,298; antisemitic vandalism increased 51% to 1,288 and antisemitic assaults increased 26% to 111."
"The dramatic increase in antisemitic incidents in 2022 in almost all categories cannot be attributed to any one cause or ideology," it continued.
However, 241 of the incidents "involved references to Israel or Zionism," and "there were 589 incidents logged at Jewish institutions such as synagogues, Jewish community centers and Jewish schools, an increase of 12 percent from 2021."
The uptick in incidents is part of larger pattern, the ADL reported:
This escalation in antisemitic incidents comes just as ADL has reported on Americans' highest level of antisemitic attitudes in decades. According to ADL's 2023 report Antisemitic Attitudes in America, 20% of Americans believe six or more antisemitic tropes, which is significantly more than the 11% that ADL found in 2019. Although a causal link between antisemitic attitudes and antisemitic activity has not been proven, it would not be surprising if some antisemites have become emboldened to act on their hatred in the current environment.
"This dramatic increase also occurs just as the FBI released its 2021 hate crime data (a year behind this report) showing that Jews remain the single most targeted religious minority in America," the executive summary continued.
Of all religion-related hate crimes the FBI tracked in 2021, 51.4 percent were anti-Jewish incidents, according to the U.S. Department of Justice.
MORE: Prof fired after speaking out against antisemitism, sexual misconduct wins $1M settlement
IMAGE: Anti-Defamation League
Like The College Fix on Facebook / Follow us on Twitter