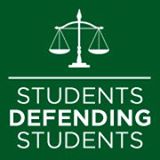 Members of Ohio University's Students Defending Students can finally wear T-shirts bearing their three-decade-old slogan, "We get you off for free," after the school settled a First Amendment lawsuit the students brought.
The Foundation for Individual Rights in Education, which assisted with the litigation as part of its Stand Up For Speech project, said the school also revised its speech-code policies and will pay the students' legal fees of $32,000.
The student group "provides free assistance to students accused of disciplinary infractions—an activity that rarely endears the group to the college administration," FIRE said.
Ohio University is the fourth school to settle a Stand Up For Speech lawsuit, with a total of $242,000 in fees and damages across the settlements, FIRE said. Three other cases are still in litigation.
Exhibit A of the settlement includes the new policy language for prohibited conduct under the student code of conduct. Among other things, the new language removes references to "mental" harm and vague terms including "demeans, degrades or disgraces."
Like The College Fix on Facebook / Follow us on Twitter