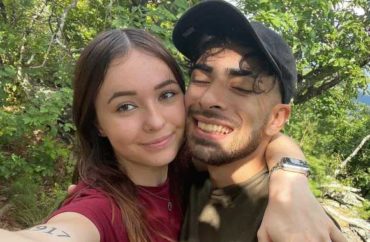 The student died in a shootout with armed robbers, authorities said
Adam Simjee, a University of Central Florida student, suffered fatal gunshot wounds defending his longtime girlfriend, Mikyala Paulus, from a would-be robber who appeared to be living with others in the woods.
Simjee and Paulus were both enrolled to take classes this fall at the university, UCF Media Relations Director Heather Smith Lovett told The College Fix in an August 19 email. Simjee was a finance major who had been enrolled at UCF since last fall. Mikayla was enrolled for her first semester as a master's student in a counselor education program.
Simjee and Paulus were traveling in the Talladega National Forest in Alabama when they encountered the suspect, who was the first to draw a gun in a shootout that killed Simjee, the Clay County Sheriff's Office reported in a news release.
"The investigation revealed that Mikayla and Adam were driving down National Forestry Road 600-3, when they were flagged down by a black female, later identified as Yasmine Hider," the sheriff's officials reported.
"Hider asked the couple if they could give her some assistance to get her car started, which was nearby," according to the sheriff's statement. "When the couple attempted to assist Hider, she produced a gun and made the couple walk back into the woods … Simjee produced a handgun that was concealed on his person. There was exchange of gunfire, during which the suspect was shot multiple times."
"Adam pulled out his gun and told her to get on the ground and that's when she started messing around with her gun," Paulus told ABC News. "It jammed once but they both shot at each other and she was shot a few times and he was shot only once."
Paulus reportedly performed CPR on Simjee after calling 911, but her boyfriend never regained consciousness, according to ABC. 
"Mikayla was not injured in the gunfire exchange; however, she did suffer mental stress and trauma from witnessing this horrendous act," according to the sheriff's report.
Paulus told police that there was a woman with Hider who had witnessed the shootout and later fled the scene, NBC News reported. Police found the second suspect and her child at a camp about a half-mile away from the robbery site.
"As officers were ordering the female to the ground a 5-year-old child ran from the woods holding a loaded shotgun," authorities said in a statement. "Law enforcement told the child to put the shotgun down however the child continued to the female's location before laying the gun on the ground."
Both subjects were charged with murder, kidnapping and robbery, according to the Clay County Sheriff.
'We had our entire lives ahead of us," girlfriend wrote
Paulus paid tribute to her boyfriend of four years on her Instagram account.
"No words can begin to describe the shock and pain im in," Paulus wrote August 17.
"We had our entire lives ahead of us," she said. "adam is the best person i've ever met on the face of this entire planet. he was the most pure soul and he made sure i knew that he would protect me."
Paulus is putting off beginning her first year at the university, ABC News reported. .
Simjee's cousin organized a GoFundMe page to assist the victim's immediate family with legal fees.
A separate fundraiser has covered Simjee's funeral and burial costs, with further donations paying for Paulus's counseling and other expenses, according to GoFundMe.
MORE: UMinn parents frustrated with crime, lack of response
IMAGE: @mikaylapaulus/Instagram
Like The College Fix on Facebook / Follow us on Twitter