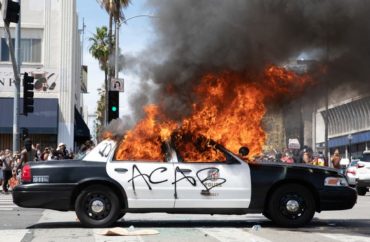 Parents have organized to push for greater security on and near campus
Parents of University of Minnesota students continue to demand that school officials boost police presence on campus after violent crime has spiked in the community.
Recent incidents such as street fights and shootings, including one in which a 15-year-old was shot in the leg, have led to an increase in conversation among parents who want local leaders to address safety concerns.
However, some have been left frustrated with what they say is a lack of response from university leadership. Officials previously cut ties with the Minneapolis Police Department in May 2020 after the killing of George Floyd at the hands of MPD officers.
A group of nearly 200 parents attended a July 11 meeting with community leaders and school officials to voice their concerns about the rampant crime on campus, according to KSTP.com.
"Parents and others met with University of Minnesota President Joan Gabel, Minneapolis Mayor Jacob Frey, Minneapolis Police Department (MPD) Interim Chief Amelia Huffman, and University of Minnesota Police Department (UMN-PD) Chief Matt Clark," the local news site reported. "For more than an hour [parents aired] concerns about a 45% rise in violent crime on and around campus since 2019."
Many of the parents were reportedly frustrated when Gabel left the meeting in the middle of the Q&A session.
"And the president of the University making a million dollars a year was able to attend 10 minutes of this meeting," The Minnesota Daily reported one parent as saying. "I don't believe that this president or this mayor has a strong commitment to public safety. I hope you prove us all wrong," the parent said, according to the campus newspaper.
MORE: UMinn student leaders demand police disarming
The College Fix reached out via email to the university to ask about violent crime, what was being done to solve it and what guidance was being given to students who want to know how to stay safe on campus.
A university spokesperson did not directly answer any questions and instead referred The Fix to a video of the July UMN Board of Regents meeting.
However, the university released on July 22 an update to its safety strategy, which includes hiring more police officers and increasing unarmed security guards.
A Facebook group created by parents to discuss campus security issues has experienced an influx of new members as a result of the crime problem.
The Minnesota Daily reported:
Last year, parents organized a Facebook group called "U of MN parents – campus safety and call to action topics" to address public safety issues. But after recent crimes in front of a property on University Avenue, a block where many students live and visit regularly, the group's membership rose to over 1,800 people."
The Fix could not reach the group for comment.
One parent announced a new nonprofit called Campus Safety Coalition, according to the Minnesota Daily. Parent Brian Peck "said the board is made up of six University parents whose goal is 'to make the University of Minnesota safe once again,'" according to the campus newspaper.
The Minneapolis Police Department did not respond to any of The Fix's inquiries in the past week requesting comment.
The parent's demands come after a history of violent crime in the community as just last year a gunman shot and wounded three students in an area near campus.
Last summer, the popular Dinkytown business district near University of Minnesota saw a thirty-eight percent drop in property and violent crime after police officers boosted their presence.
Other universities across the country are also facing pressure from parents to tackle crime and keep students safe.
MORE: I've lived in Minneapolis my entire life. I no longer recognize my hometown
IMAGE: Hayk Shalunts/Shutterstock
Like The College Fix on Facebook / Follow us on Twitter