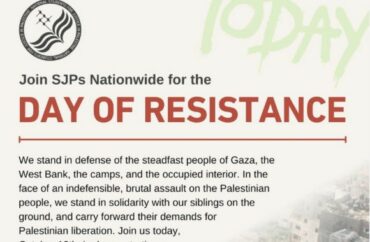 Free speech and education commentators divided on constitutionality
State university presidents in Florida were asked to deactivate two Students for Justice in Palestine groups due to their association with the national organization which has pledged allegiance to Hamas.
This is because the groups are aligned with National Students for Justice in Palestine, which released a "toolkit" in support of Operation al-Aqsa Flood, the Oct. 24 letter from State University System Chancellor Ray Rodrigues stated. The students can regain club status by forming a new group separate from the national organization.
The operation is the name for Hamas' attacks on Israel, which began on Oct. 7 when the terrorist group which governs Palestine began attacking civilians. NSJP called on its groups to support the "resistance" against Israel.
"We as Palestinian students in exile are PART of this movement, not in solidarity
with this movement," the group wrote. "This is a moment of mobilization for all Palestinians. We must act as part of this movement."
"All of our efforts continue the work and resistance of Palestinians on the ground," the group wrote.
Particularly in response to this part, the state alleged the student groups were in violation of state law that prohibits "knowingly" providing "material support" to terrorist organizations.
"Based on the National SJP's support of terrorism, in consultation with Governor DeSantis, the student chapters must be deactivated," Chancellor Rodrigues stated. "These two student chapters may form another organization that complies with Florida state statutes and university policies."
Gov. DeSantis, a presidential candidate, also recently said he would seek to revoke visas as president from foreign students who support terrorism.
"The two institutions should grant these two chapters a waiver for the fall deadlines, should reapplication take place," he wrote.
Free speech groups and education commentators offered mixed opinions on the constitutionality of the action.
"The government cannot force public colleges to derecognize Students for Justice in Palestine chapters," the Foundation for Individual Rights and Expression told The College Fix via email today.
"There's no indication from the chancellor's letter that any action from Florida's Students for Justice in Palestine groups went beyond expression fully protected by the First Amendment," communications manager Alex Griswold said.
"This directive is a dangerous — and unconstitutional — threat to free speech," Griswold said. "If it goes unchallenged, no one's political beliefs will be safe from government suppression."
Journalist and civil libertarian Glenn Greenwald also criticized the decision.
"This is about as blatantly unconstitutional an attack on free speech as you'll find," Greenwald wrote on X. "Throughout US history, it's wars that are exploited to increase authoritarian state power."
Reason commentator Cathy Young wrote that SJP's toolkit indicates Florida considers the group as part of Hamas, "which would amount to aiding terrorism."
"So on this occasion DeSantis may well be on solid ground, despite often encroaching on 1A," Young wrote.
Adam Kissel, a higher education policy expert who previously led FIRE's Individual Rights Defense Program, wrote the legality could go either way. He has worked on education policy for various think tanks.
Close call—the "toolkit" is about messaging and protesting (1A protected), yet insists that actions (incl. violence), not mere words, are required. Are rhetorical resources "material" support? The chancellor requires the groups to disaffiliate/change their name. 50/50 leaning FL. https://t.co/PiMRslbM6v

— Adam Kissel (@kissel_adam) October 24, 2023
"Close call—the 'toolkit' is about messaging and protesting (1A protected), yet insists that actions (incl. violence), not mere words, are required," Kissel, who also served in President Donald Trump's Department of Education, wrote on X. "Are rhetorical resources 'material' support?"
"The chancellor requires the groups to disaffiliate/change their name. 50/50 leaning FL."
MORE: Calif. professor threatens violence against 'zionist journalists,' their kids
IMAGE: National Students for Justice in Palestine/Instagram
Like The College Fix on Facebook / Follow us on Twitter