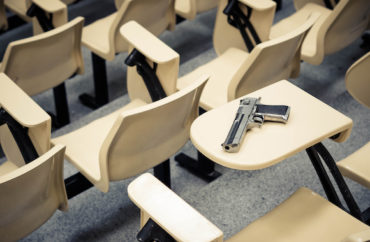 In some instances, crime actually dropped
Though popular belief holds that more guns on college campuses will lead to an uptick in gun violence, several universities have reported no such increase even after their states legalized the carrying of concealed weapons on school grounds.
According to the website of Armed Campuses, a pro-gun-control initiative that tracks firearm policies at universities across the country, seven state legislatures have broadly permitted concealed carry on public university grounds. Five more have instituted limited campus carry regimes. Ten states prohibit campus carry altogether, while the remainder either allow the university to set the policy or else mandate that the guns must be left in locked cars.
The College Fix reached out to multiple public universities in states where campus carry is legal. All of the schools that responded confirmed that they have seen no uptick in violence since their respective policies were put in place.
Emporia State University is located in Emporia, Kansas. Armed Campuses states that, in that state, "any individual 21 years or older who is otherwise legally allowed to possess a concealed handgun may do so in any public facility, or on any public grounds unless proper security measures are in place."
Reached via email, Emporia State campus spokeswoman Gwen Larson told The College Fix that the school has observed no change in gun violence since that rule was instituted. "Emporia State did not have gun violence before the law changed, and there has been no violence since the law changed," she wrote.
Asked if there had been an uptick in campus carry since the policy change, Larson responded that she couldn't say.
"There is no way of knowing the answer to this question. Kansas law prohibits tracking people who are carrying concealed handguns or making inquiries about who may or may not be carrying," she wrote.
No gun violence increase, no 'concerns' regarding campus guns
Utah's Dixie State University, located in St. George, has also not seen any increase in gun murders or injuries since guns were allowed on campus there, according to campus law enforcement. Utah law has actually permitted campus carry for nearly a decade and a half.
Dixie State's campus Chief of Police Blair Barfuss told The College Fix via email that there has been no "reported or observed increase with gun violence on campus" related to the state's campus carry policy.
"DSU does restrict firearms in on-campus residential housing units, unless the individual possesses a state issued firearms concealed carry permit, which is allowed by state statute," Barfuss said.
He added that the university, like Emporia State, "does not track who on campus possess state issued concealed carry firearm permits."
"This would be very difficult to do due to DSU students coming from many states across the country. We have not seen any increase in reports of firearms on campus, and we have not been made aware of any concerns regarding concealed carry permit holders by students or staff, related to Utah state legal statute."
The Fix reached out to Valdosta State University, a public university in Valdosta, Georgia, to inquire about its experiences with concealed carry. Armed Campuses says that state has permitted concealed carry on college campuses since July of 2017.
Campus spokesman Keith Warburg provided The Fix with a letter from Steve Wrigley, the chancellor of the University System of Georgia. That letter, dated May 24, 2017, affirms the general right to carry a gun on public campuses while outlining several locations in which guns are still forbidden, including residence halls as well as classrooms in which high school students are studying.
Asked if the university has experienced an increase in gun violence since the legalization of concealed carry, Warburg did not directly answer. Instead he provided The Fix with the school's 2019 Annual Security and Fire Safety report. Data from that report show no increase in murder or manslaughter on the school's campus from 2016-2018; in all years it was zero. Aggravated assaults on campus dropped from three in 2016 to one in 2018. Burglaries dropped from 22 in 2016 to nine in 2018.
The lack of evidence that liberalized campus carry laws lead to more campus violence stands in contrast to the often-heated rhetoric of gun control activists. The Campaign to Keep Guns Off Campus, an activist group partnered with Armed Campuses, has claimed that efforts to allow concealed weapons on campus are "dangerous." That group says it is working "to protect American's colleges and universities."
On its website, Armed Campuses lists a study examining campus crime rates following the passage of liberalized concealed carry laws. The study also looks at state-level and national crime statistics. The report concludes that available data "do not prove that campus carry causes more crime." Armed Campuses did not respond to a request for comment on Thursday morning.
MORE: Two years after losing anti-gun lawsuit, professors won't talk about campus carry
MORE: New women's gun advocacy group highlights popularity of Texas campus carry
IMAGE: wk1003mike / Shutterstock.com
Like The College Fix on Facebook / Follow us on Twitter