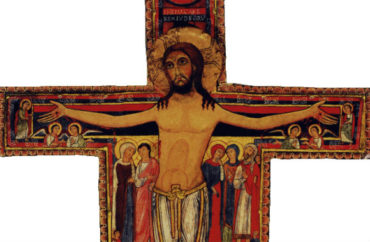 'We apologize for the error'
Facebook is trying to make amends for wrongly blocking an Easter-related ad by a Christian college, but it isn't telling the truth, according to the school.
A spokesperson for the social network told Fox News that the image of the San Damiano cross in the ad submitted by Franciscan University of Steubenville didn't violate Facebook's ad policies:
"Our team processes millions of ads each week, and sometimes we make mistakes," a Facebook spokesperson told Fox News. … "We apologize for the error and have already let the advertiser know we approved their ad."
The problem is that Facebook's claim that the ad with Jesus on the cross was approved Monday is "demonstrably false," the university's web communications director told Fox News.
Tom Crowe said Facebook did, however, approve the college's ads "with the exact same image, which again leads me to believe it wasn't an algorithm, but was a low-level staffer who skims many, many ads and just had something personal against this one."
The San Damiano cross is found across the Franciscan campus. It has particular importance to the university, founded and still run by Franciscan friars, because "it is believed God spoke to St. Francis through this cross":
Unlike other depictions of the cross, the San Damiano cross doesn't show Christ in agony, because they believe Christ crucified is the sign of his glory and reign. While Jesus most likely would've been naked, it's believed the garment he's wearing is what most Jewish priests would wear when they offered sacrifices in the Temple, symbolizing Christ as the high priest, the sacrifice of the Father, and the fulfilment [sic] of the old covenant.
Read the article and the original report by The College Fix.
MORE: Facebook bans Jesus on the cross in Christian college ad for Easter
IMAGE: Public domain
Like The College Fix on Facebook / Follow us on Twitter