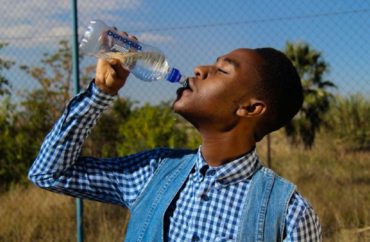 'I'm not sure how realistic it is to expect that students don't drink water in libraries,' one student says
Fordham University will slow the spread of COVID by banning students from drinking water out of their own bottles, according to the latest policy update.
In addition to increased testing after a "spike in cases" of the omicron variant, which afflicts people with runny noses and coughs, the Catholic university will stomp out coronavirus with a few more restrictions, the campus paper reported.
The Observer reported:
Fordham also updated its policies for eating and drinking in spaces on campus. Eating or drinking will be prohibited at athletic events until further notice. Food and drink are not allowed in classrooms and instructional spaces such as libraries or laboratories. Throughout the month of January, eating and drinking will also not be permitted at any events or meetings. Additionally, the university canceled all indoor events scheduled for January where food or beverages were to be served.
The student body is more than 99 percent vaccinated as of September, and "no unvaccinated individuals [are] allowed on campus except for individuals with official accommodations or those still completing their vaccination series."
The Catholic university has been struck by an outbreak of 58 cases of COVID in the past 14 days.
However, 18,984 of the other on-campus university community members have not tested positive, yielding an infection rate of .03 percent.
At least one student finds the restrictions on the 99 percent vaccinated campus reasonable, up until a point.
"I'm glad they're taking it seriously, but I'm not sure how realistic it is to expect that students don't drink water in libraries," Charles Friedlander told the campus paper. "Personally, I do really prefer in-person classes, but it feels like they should've just made the first two weeks or so online – especially if they're expecting people to get boosters and regular testing."
MORE: I've tested negative for COVID 17 times and I have to mask alone, outside
IMAGE: KenexMediasa/Pexels.com
Like The College Fix on Facebook / Follow us on Twitter