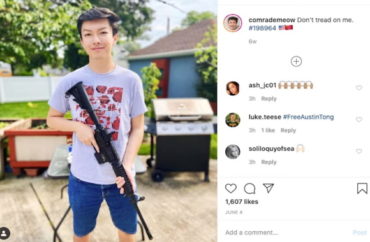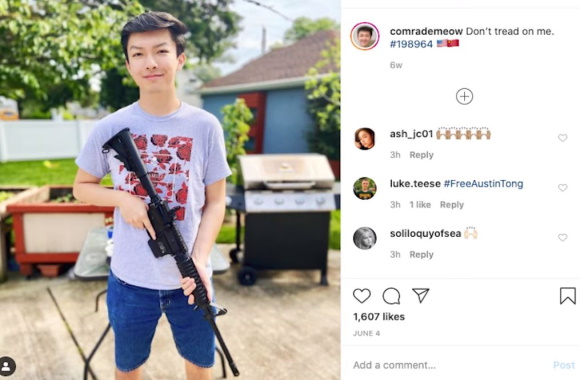 'I am fighting for something bigger than myself,' Tong said
A Chinese immigrant student has sued Fordham University after it punished him for posting an Instagram photo meant to commemorate the 1989 Tiananmen Square protests in China.
Austin Tong filed a lawsuit on July 23 against the private, Bronx-based Catholic university after it sanctioned him on July 14 for an Instagram post in which he posed with his legally owned firearm to commemorate the Tiananmen Square protests against the Chinese Communist Party with the caption: "Don't tread on me."
Tong also posted a photo with the caption "Ya'll a bunch of hypocrites" in support of David Dorn, a retired African-American police officer who was killed by burglars while defending a friend's store during rioting and looting in St. Louis in June.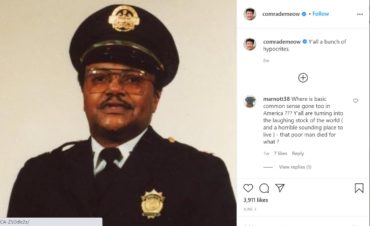 The lawsuit seeks to overturn his punishment, which the university told him was final and could not be appealed. The school's disciplinary letter said he violated "university regulations relating to bias and/or hate crimes" and had made "threats [and] intimidation."
Fordham banned him from campus, mandated he undergo bias training, required him to write an apology letter to the school, and threatened him with suspension or expulsion if he violated any of the terms of probation, according to the disciplinary letter.
However, one public safety agent who interviewed Tong concluded that the Instagram posts were not threatening, the lawsuit points out.
Tong told The College Fix that he sees his fight as something bigger than himself.
"At first, it was me who was forced to fight back," Tong said, but "seeing the huge support that this movement has received, I realize I am fighting for something bigger than myself. I am fighting for peoples' right to speak freely in what is supposed to be a free society."
Tong is a Chinese-American who immigrated to the United States when he was 6 and became a U.S. citizen. The lawsuit states he has a strong love for his adopted country and is grateful for the personal liberties it affords.
"I am fighting for the ability to engage in meaningful discourse without being banished or cancelled, and frankly, it is all of us. We are together standing up for the importance of the First Amendment as well as the right to keep and bear arms in a free society as a bulwark against tyranny," Tong wrote to The Fix via Instagram messaging.
MORE: Fordham U. punishes Chinese student for Tiananmen Square post
The lawsuit states Tong's decision to attend Fordham was largely due to the "university's promise of freedom of expression and stated commitment to open exploration of challenging ideas."
The university did not respond to multiple requests from The College Fix seeking comment.
"I will never apologize nor comply for doing nothing wrong, even if this comes at a massive personal cost," Tong said. "I am also fighting for everyone who came to me to tell me their story of being silenced. We as a people will not back down to tyrants, and we will use this case as a precedent for those who attempt to silence us."
The lawsuit stated that Fordham's actions have had several consequences, arguing Tong has been "marginalized from academic life," "treated like a criminal," "branded as a dangerous and hateful individual" and "stigmatized by the imposition of wrongful punishment for the mere exercise of his constitutional rights which he rightfully trusted would be guaranteed by Fordham's own policies and rules."
The university's sanctions will continue to violate his university-guaranteed free expression rights by silencing his ability to talk about specific topics, the lawsuit argues.
By punishing Tong, Fordham "violated its own policies and rules which unequivocally commit the University to the protection and encouragement of free speech and expression, and to fostering and allowing differing viewpoints that may be controversial or make some individuals uncomfortable," the lawsuit alleges.
The lawsuit notes that Fordham's only policy or rule pertaining to firearms or weapons is that students are not allowed to have weapons on campus or at university events off-campus.
Tong, as the lawsuit points out, did not violate any policies or rules of Fordham University.
The Foundation for Individual Rights in Education sent a letter to Fordham warning it that its punishment violated its commitment to free-expression. The foundation states that it has still not heard back from the university.
"I hope all Americans and freedom loving students can take this chance to stand up for themselves, and push back against cancel culture and its erosion of our liberties," Tong said.
MORE: Fordham University bans emails that 'insult' or 'embarass' people
IMAGES: Austin Tong's Instagram
Like The College Fix on Facebook / Follow us on Twitter