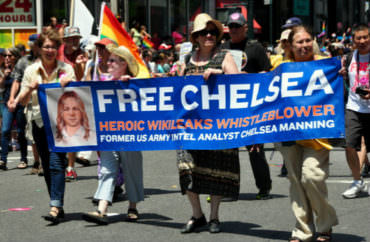 But supports Manning's rights 'as a transgender American'
Michael Morell couldn't care less that Chelsea Manning identifies as a woman.
But the former acting CIA director can't abide by sharing an institutional affiliation with a "convicted felon and leaker of classified information."
In a letter to Harvard Kennedy School Dean Douglas Elmendorf posted by CBS News, Morell announced he was resigning as a senior fellow from Harvard's Belfer Center for Science and International Affairs.
That's because Harvard's Institute of Politics is bringing on Manning, who was born Bradley, as a visiting fellow specializing in "issues of LGBTQ identity in the military." (Harvard announced Manning's fellowship along with several others the same day, including former Trump White House Press Secretary Sean Spicer.)
Morell wrote:
Unfortunately, I cannot be part of an organization – The Kennedy School – that honors a convicted felon and leaker of classified material … Ms. Manning was found guilty of 17 serious crimes, including six counts of espionage, for leaking hundreds of thousands of classified documents to Wikileaks [and later pardoned by President Obama] …

Senior leaders in our military have stated publicly that the leaks by Ms. Manning put the lives of US solders at risk. …

MORE: Chelsea Manning hired by Harvard to talk LGBTQ issues

Please know that I am fully aware that Belfer and the IOP are separate institutions within the Kennedy School and that, most likely, Belfer had nothing to do with the invitation of Ms. Manning to be a fellow at IOP. But, as an institution, the Kennedy School's decision will assist Ms. Manning in her long-standing effort to legitimize the criminal path that she took to prominence, an attempt that may encourage others to leak classified information as well. I have an obligation to my conscience – and I believe to the country – to stand up against any efforts to justify leaks of sensitive national security information. …
NEW: Former CIA Deputy Director Michael Morell resigns as Senior Fellow at Harvard Kennedy school over hiring of Chelsea Manning pic.twitter.com/qrD7MCdVtx

— CBS News (@CBSNews) September 14, 2017
Morell stressed he "fully" supports Manning's rights "as a transgender American, including the right to serve our country in the US military" and to discuss "the circumstances that surrounded her crimes," but Morell must resign to show her actions were "disgraceful and damaging to our nation."
Former Republican presidential nominee and Massachusetts governor Mitt Romney praised Morell's decision.
Well done, Mike. And abject shame on Harvard. https://t.co/SfI1HxDpdD

— Mitt Romney (@MittRomney) September 14, 2017
Fox News notes that Weekly Standard founder Bill Kristol also pledged to avoid Institute of Politics events (he moderated one with libertarian social scientist Charles Murray). Manning responded by asking Kristol to keep Spicer away from those events as well.
I'm loyal to Harvard, but I think I'll forego IOP events this fall. (I'd feel the same way if Chelsea Manning were still Bradley Manning.)

— Bill Kristol (@BillKristol) September 13, 2017
awesome ! can you ask @seanspicer to do the same ? ??? #WeGotThis https://t.co/TV7OScWqOG

— Chelsea E. Manning (@xychelsea) September 13, 2017
Thomas Lifson of American Thinker, himself a former fellow of two Harvard institutes, notes that Manning, Spicer and the other IOP fellows are required to live on campus and be generally available Monday through Thursday:
Over time, as they meet people and encounter the resources the university has, some of them catch fire and form deeper and lasting ties with various members of the community.  Some of them are duds and don't come back.  But at a minimum, one year's worth of master's degree candidates in public administration are getting the opportunity to learn the thinking of the people they bring in.
Fellows can bring their families to live on campus and they have access to all Harvard facilities, though they have to lead eight study groups, allot four hours of "office time" weekly for student meetings, attend weekly fellows lunches and dine with the director. They are "encouraged to attend as many other IOP events as possible."
Read Morell's statement and American Thinker blog.
MORE: Edward Snowden 101 and university studies
IMAGE: LEE SNIDER PHOTO IMAGES/Shutterstock
Like The College Fix on Facebook / Follow us on Twitter