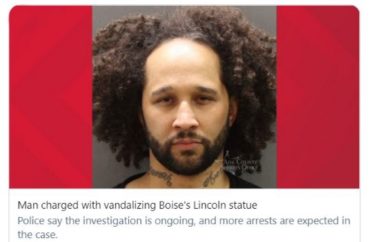 A man arrested for allegedly defacing an Abraham Lincoln statue in a Boise park has been identified by police as Terry Wilson, 37.
Wilson is a former Boise State University adjunct professor who has previously been referred to as a spokesperson for Black Lives Matter Boise, reports the Idaho Freedom Foundation.
"According to Boise State University, Wilson worked as an adjunct professor for three semesters, an arrangement that ended last December. A BSU representative could not shed light on why BSU and Wilson parted ways," the foundation reports.
The statue of Abraham Lincoln was vandalized Feb. 1 with paint, feces and signs, the Boise police stated in a news release, adding that "both physical and electronic evidence was used" to determined Wilson was among those allegedly responsible for the vandalism.
The statue in Julia Davis Park was vandalized with feces, paint and signs in February. https://t.co/mNBUVbtSqj

— Idaho Statesman (@IdahoStatesman) March 24, 2021
"Boise City prosecutors issued an arrest warrant for Terry Wilson late last week. Wilson was located this afternoon," the department reported March 23.
"When officers approached Wilson and attempted to arrest him on the warrant, Wilson ran. Officers chased after Wilson and were able to stop him and take him into custody, at which time Wilson was found to be in possession of a firearm, marijuana and drug paraphernalia. Wilson was taken to the hospital and was medically cleared before being booked into the Ada County Jail on the listed charges," according to the department's release.
The Idaho Freedom Foundation notes that "Wilson's Twitter account Exegesis Joe is filled with left-wing content, including calls to defund the Boise Police Department," adding:
According to his LinkedIn profile, Wilson was a student at BSU for at least six years prior to being hired. He worked as an administrative assistant in the Criminal Justice Department and for Boise State Public Radio. BSU's graduate college even gave Wilson a showcase award in 2019. When hiring Wilson as an adjunct professor, how could BSU not realize it was employing a radical activist?

For years, BSU handed Wilson the power to instruct students in general education classes. How many other activists, like Wilson, has BSU hired? As a result, how many more students at BSU will be propagandized and indoctrinated to despise our great nation?
Meanwhile, KTVB reports that police are continuing the investigation and more arrests are expected.
IMAGE: KTVB / Boise Police
Like The College Fix on Facebook / Follow us on Twitter