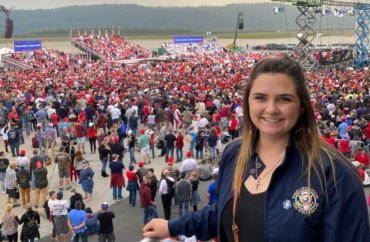 Former White House staffer praises work environment
Tiffany Boguslawski (right) graduated from Loyola University Chicago in May 2019. That same month, she started working for the Trump administration as an intern. She has three degrees in political science, history and international relations from the Catholic university on Chicago's North Side.
"Working for the Trump administration was the best almost two years of my life," she told The College Fix on a phone interview. "It was a healthy work environment," Boguslawski said, the opposite of what she says she heard going into the internship. "It was the most amazing experience. The most caring, I can't speak more highly of the administration."
Boguslawski started by interning in the Presidential Personnel Office. She was then hired as an executive assistant at the end of her internship and worked in that office from August 2019 until February 2020.
She helped conduct interviews with presidential appointees, including Chad Wolf, the former acting secretary of homeland security.
Boguslawski said she assisted with "vetting" and "weeding out" applications from thousands of applicants for a variety of appointments. Her portfolio included the Department of Justice, Department of Homeland Security and the State Department.
From there she went to work as an operations manager on the advance teams, helping with all aspects of planning for events for Trump.
It involved "putting out any fires" and every aspect from where Air Force One would land to showing the media potential locations for photos and footage of the president.
One of her opportunities included traveling to Poland in 2019 with Vice President Mike Pence. This trip had an even more special meaning for her.
Boguslawski's parents are "refugees from Poland because of the Cold War" and she notes they "love" President Trump. She volunteered for the assignment while in the personnel office.
It's taking opportunities that come in front of you that Boguslawski said helped her as she advanced in her work for the Trump administration.
"My biggest thing, especially in politics, is to never have a plan. Never plan your life out. My plan was never to go work in an advance office," she told The Fix.
Another favorite memory is helping to set up a massive rally for President Trump in India (below).
"My favorite memory may be stepping foot on the plane for the first time. We had just finished the most intense two weeks in Ahmedabad, India, setting up a rally for the president for 130,000," Boguslawski said. "It was a very hard and exhausting two weeks and getting on that plane, knowing the magnitude of what our team just pulled off."
She advises students and college grads who want to work in politics to "seize opportunities as they come to you."
"Take whatever opportunities are thrown at you," she said. "Had I gone to [Georgetown for graduate school] I never would have had a conversation with the President of the United States" or "experienced working with Secret Service," Boguslawski said. "Do not go around with a plan. It will never turn out the way it is," she said. "Many times it will be for the better."
Learning from her experience vetting candidates, she urges people to "be careful about your social media," especially if they want to work in politics.
As for her own plans, Boguslawski hopes to continue to work in politics and has applied to some media firms and Congressional offices.
MORE: 'You don't need college to succeed,' says rising star national reporter
IMAGES: Tiffany Boguslawski
Like The College Fix on Facebook / Follow us on Twitter