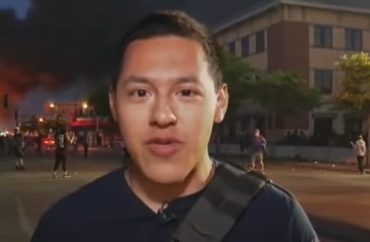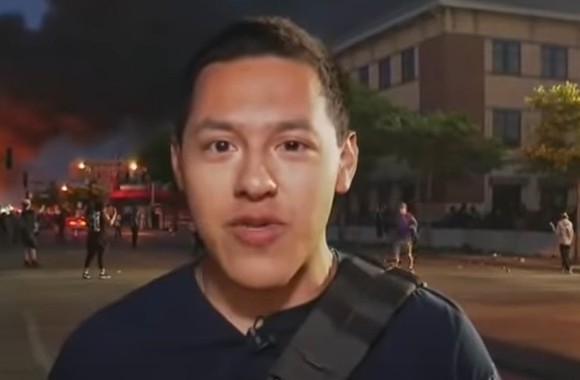 Mainstream media responsible for distrust in profession, journalist says
Chances are if you watched Fox News' coverage of riots across the country the past six months you saw Julio Rosas.
Wherever there is smoke, there goes the 24-year-old Townhall senior writer.
But Rosas (pictured) never studied journalism in college — he doesn't even have a college degree. In a phone interview with The College Fix, Rosas explained how he started in journalism, his advice for other aspiring journalists, and what he thinks about the mainstream media.
"You don't need a college degree to succeed. I understand why some people think they do, but there are other ways to streamline that process and build the brand," Rosas said.
Some of the Proud Boys are trying to resist the D.C. police's attempts to push them away from the Antifa group. pic.twitter.com/YJQzni2fIx

— Julio Rosas (@Julio_Rosas11) December 13, 2020
Rosas said he was hired by Turning Point USA in late 2014 to help build the activism kits, which are packages of promotional materials used by groups to recruit students to join the chapter.
"In 2016, Bill Montgomery and Stephen Rowe asked me if I wanted to write for Hypeline [a former news site run by TPUSA]," Rosas said. "I took a journalism class in high school because I had to take a writing class. I didn't know it at the time, but I really enjoyed the class."
He started by writing articles during the 2016 election and covering protests at the Republican National Convention and the Democratic National Convention. It's there that he found out he liked covering protests. He estimates he has appeared on TV 40 times and has covered nearly 100 protests and riots in a dozen cities.
Rosas explained how this experience benefited him:
We were focusing a lot on the election. At that point, Trump was basically the nominee. I really discovered that I liked covering protests, because Turning Point sent me to the RNC and DNC that year. So there were protests in Cleveland with the RNC, and so I went to the protests, because the RNC had anti-Trump protesters. But the protesters at the DNC were [Bernie Bros] anti-Hillary people. It was interesting to see the two different protesters.
After Trump won in 2016, Rosas saw an opportunity to make his move and leave Indiana Wesleyan University, where he briefly studied after spending a year at College of DuPage, a community college in Illinois.
"As time went on, my decision to drop out of school came after Trump won in November of 2016, because I saw the reaction to his campaign and then he actually won and then people were losing their minds," he said.
Rosas explained his thought process at the time:
And so I thought, 'Well, this is how it's going to be for the next 4 years, might as well get a head start on it and strike while the iron's hot, in terms of the content.' So I started working on internships in the D.C. area, and I found one paid one, at IJR [Independent Journal Review]. So I finished my sophomore year but I told the college I wasn't coming back, and moved out [to D.C.] in May 2017.
"After IJR I went to Mediaite and that's how I got into covering media when I'm not covering protests. I then went to Washington Examiner and covered the ANTIFA/Proud Boys [confrontation] in Portland in August 2019," Rosas said.
Next he worked his way up to his current role as senior writer at Townhall. The Portland coverage had caught the attention of Townhall, which had wanted to expand more on original reporting.
"I told them I wanted to keep doing stuff like that and they said 'absolutely.' It's just a lot of writing. Bill McMorris at The Washington Free Beacon told me it's a lot easier to find a job in media once you've established three years of consistent writing," he said.
After joining Townhall in September 2019, he began cultivating sources on Capitol Hill, "which paid off during the impeachment stuff, because some of my sources were at the forefront of all of that," he said.
"We were expecting to shift to the election after the impeachment, but then COVID and the riots happened, and when those riots happened, Townhall was more than willing to send me," Rosas said. "There's a lot of responsibility that goes into that, they already had that confidence in me, so that was nice after each trip."
Gives advice for aspiring journalists
He said that journalists can make a name for themselves by becoming a reliable source of information. Rosas said he believes his original reporting on riots has helped him carve out a place in the world of journalism.
"The media is important, it's just unfortunately, but because there is a lot of distrust in the media, there is an opportunity to set yourself apart, and that's what I went for with covering the riots and protests," he said. "By providing the information that the other places didn't want to touch, I've established myself as a reputable source of information. There is actually room for people who really want to provide accurate information to the American people."
Rosas said he encourages young journalists not to "let the distrust people have discourage [them] from entering the media. It's a motivation to not be like them [the mainstream media]."
"The distrust in the media is their own fault," he said. "They did it to themselves."
MORE: The importance of good journalism
IMAGE: Townhall Media/YouTube
Like The College Fix on Facebook / Follow us on Twitter