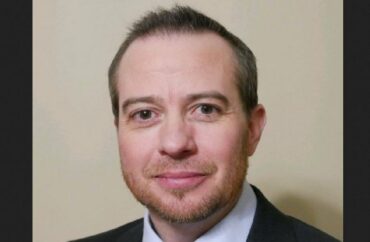 White leadership is 'uncomfortable making relationships with people who aren't White'
A former diversity, equity and diversity manager at the University of Vermont Medical Center recently ripped (white) executives in New England's largest healthcare system, saying they "should not have the power to 'speak constantly about DEI issues.'"
Ryan Polly, a transgender man who's now the vice president of DEI for MaineHealth, said system execs are in need of sensitivity training "in order to create a 'safe space,'" Maine's Fox 22 reports.
Polly (pictured) also said company execs behave according to their "whiteness" and are "uncomfortable being associated with people of color."
"I think what I encourage White people who are new to this to think about is your lens first. Like, turn the mirror on yourself first. If you've never thought about your Whiteness and how it impacts the space you're interacting with, that's a starting place," Polly said.
"I'm not suggesting we want to have all the White executives in power own it and speak constantly. We do need to create a space and teach the skills of learning, listening." …

Polly claimed that "White leadership" acts in a way that exhibits "Whiteness" because they are "uncomfortable making relationships with people who aren't White."

"I find that many times a lot of White leaders just don't have a network of relationships outside of Whiteness," he said.

"I think that organizations that are very White – particularly when you look at your White leadership – needs to start to do, is start to get uncomfortable making relationships with people that aren't White," he said. "I mean, there's a need for our White leaders to create those bridges and build relationships."
Polly also suggested big companies should employ "black-owned" consulting firms to ferret out systemic racism within their ranks.
According to a 2021 press release, MaineHealth said Polly is a "highly regarded leader, trusted partner and educator who is ideally qualified to drive forward our diversity, equity and inclusion efforts across the health system."
Polly had said his DEI goal at MaineHealth is to "ensure that every care team member is able to bring their whole self to work and to be valued for the differences they bring."
According to his Linkedin profile, Polly has a PhD in Transformative Studies and was part of the faculty at Champlain College and the Community College of Vermont.
MORE: Black university lecturer won't take daughter to 'Barbie' due to its 'unintentional whiteness'
MORE: White people need to 'work' on their 'whiteness': sociologist
IMAGE: Ryan Polly/Linkedin
Like The College Fix on Facebook / Follow us on Twitter