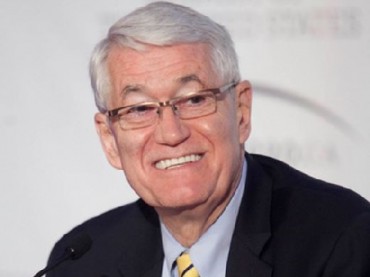 A former UC Berkeley chancellor known as a champion of students in the country illegally and the homosexual community will no longer serve as Haverford College's commencement speaker after students complained he allowed police brutality to take place one time at Cal back in 2011.
"I am writing to report that Dr. Robert Birgeneau has declined our invitation to come to campus and receive an honorary degree at this Sunday's commencement," the college's president, Daniel Weiss, stated Tuesday.
It was announced in April that Birgeneau would speak at the private liberal arts college in Pennsylvania and receive an honorary degree.
Soon after, 50 students and professors sent a demand letter to him regarding a Nov. 9, 2011, incident at UC Berkeley at which police used batons to break up an Occupy Cal protest where students linked arms and refused to vacate.
Among their demands, Haverford students told Birgeneau to apologize, support reparations for the victims of the Nov. 9 beatings and arrests, admit police used unjustifiable excessive force, and write an open letter to Haverford students explaining his position on the incident, what he learned from it, and how he's put what he learned into practice.
"As a community standing in solidarity with nonviolent protesters across the country, we are extremely uncomfortable honoring you," their letter added. "To do so would be a disservice to those nonviolent protesters who were beaten and whose actions you dismissed as 'unfortunate,' as if they brought the abuse upon themselves."
In a brief and terse letter to Haverford students and professors, Birgeneau essentially told them to take a hike.
"First, I have never and will never respond to lists of demands. Second, as a long time civil rights activist and firm supporter of non-violence, I do not respond to untruthful, violent verbal attacks," is the entire response Birgeneau provided.
At a campus forum last week, students and professors continued to bemoan Birgeneau, his record, and his response to their demands, the Haverford Clerk student newspaper reports.
"While the tone of the letter was not as diplomatic as it could have been," student Kathryn Dorn said, "describing the letter as a violent verbal attack does not seem to demonstrate that he was willing to engage in any type of dialogue."
Political science associate professor Anita Isaacs "cited Haverford's commitment to peace and nonviolence as a Quaker institution as one of the reasons for her concern," the Clerk reports, adding associate professor of English Maud McInerney said Birgeneau's commitment to liberal causes doesn't clear his name.
"I don't want people to forget the experience of people who were beaten," she said.
Weiss, in his statement, said Birgeneau alluded to the fact that he disagrees with the Haverford community's complaints.
"In offering congratulations to our students and their families, Dr. Birgeneau also expressed disappointment at not being able to increase awareness of what he believes to be the defining social justice issue of this generation of graduates: the plight of 11 million undocumented American immigrants," Weiss stated. "Under Dr. Birgeneau's leadership, Berkeley became the first public university in the United States to offer undocumented students comprehensive financial aid."
This spring has seen several speakers be disinvited by their host universities or remove themselves from a planned talk.
Former Secretary of State Condoleezza Rice removed herself from Rutgers' commencement ceremonies after some students protested that Rice is a war criminal who backed enhanced interrogation tactics.
Brandeis University rescinded an honorary degree it had planned to give to women's rights advocate Ayaan Hirsi Ali. Ali has been a strong critic of the way women have been treated in Islamic countries.
Christine Lagarde, Director of the International Monetary Fund, withdrew from the all-women's Smith College commencement ceremonies. Protesting students said that Lagarde "represents a corrupt system that fuels the oppression and abuse of women worldwide," according to an online petition.
At Azusa Pacific University, a Christian university in California, the American Enterprise Institute's Charles Murray was disinvited at the last minute. The university's president, John Wallace, said in a statement that "given the lateness of the semester and the full record of Dr. Murray's scholarship, I realized we needed more time to prepare for a visit and postponed Wednesday's conversation."
College Fix contributor Dominic Lynch is a student at Loyola University Chicago.
Like The College Fix on Facebook / Follow us on Twitter