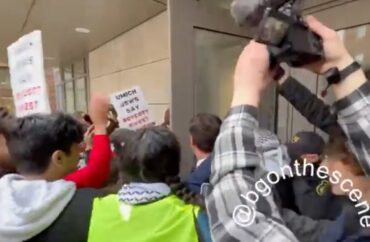 Some protesters forced their way into a campus building, occupied it for several hours
University of Michigan police arrested 40 people on campus Friday after breaking up a pro-Palestinian protest of hundreds, some of whom had forced their way into an administrative building.
"At least 200 people gathered Friday, calling for the university to divest from Israel," Michigan Live reported Saturday. "Around 4 p.m., the demonstrators moved from the central campus Diag area to the Ruthven Administration Building."
Palestinian advocacy group University of Michigan Students Allied for Freedom and Equality organized the protest.
The group posted Thursday to Instagram, "on tomorrow's Global Day of Action to #shutitdown4palestine, join us and our coalition in demanding that the university divest from companies that fund and participate in the genocide of the Palestinian people."
After making their way to the locked Ruthven building, which campus officials guarded, some protesters forced their way inside and occupied it for approximately five hours, according to video posted to X by Brendan Gutenschwager and the Detroit Free Press.
Outnumbered police attempt to block pro-Palestinian demonstrators from entering the Ruthven Building at the University of Michigan, protesters make their way past and enter pic.twitter.com/Yd4sM1sSef

— Brendan Gutenschwager (@BGOnTheScene) November 17, 2023
"Hundreds of students demanding a meeting with [university President Santa] Ono gained access to the building, which police said had been locked," the Free Press reported.
Approximately 40 students were arrested, given tickets and released.
A network of 55 U. Mich. groups, including SAFE UMich and Students for Justice in Palestine, have demanded the University of Michigan divest from companies affiliated with the Israeli military, particularly Hewlett Packard, Lockheed Martin, and the Boeing Company. They have also called on university leaders to call Israel's military actions in Gaza a genocide.
SAFE Mich. posted a statement alleging police violence at the protest to Instagram Sunday, along with a video of a chaotic scene. The video shows a woman lying on the building floor in handcuffs, though it is not clear from the footage what happened just before.
"STUDENT PROTESTER WAS VIOLENTLY BODY SLAMMED TO THE GROUND AND HANDCUFFED," Safe UMich posted to Instagram on Sunday.
The University of Michigan has been the site of pro-Palestinian and pro-Israel protests and other events over the past several weeks. Police were present on the quad starting on Oct. 9, when more than 1,000 students held a vigil for Israeli victims, The Michigan Review reported Oct. 11.
MORE: Tulane pro-Palestinian protest turns violent
IMAGE: @BGOntheScene/X
Like The College Fix on Facebook / Follow us on Twitter