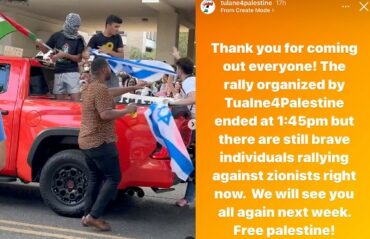 Three students were assaulted and police made several arrests, according to the university
At a pro-Palestine rally at Tulane University on Tuesday, protesters clashed as a pro-Palestine demonstrator attempted to burn an Israeli flag.
Protestors and counter-protestors showed up that morning for a demonstration planned for 12:30 pm at the New Orleans university.
Crowds of demonstrators carrying Israeli and Palestinian flags formed on opposite sides of the street.
In one incident, recorded on video and shared on social media, a masked demonstrator carrying Palestinian paraphernalia attempted to burn an Israeli flag as he stood in the bed of a pickup truck driving down the road that divided the groups.
Another student attempted to grab the flag, and several began to fight.
Tulane student Drew Biller told The College Fix via text message Friday that she and other students had to walk through the rally to get to classes.
The demonstration was held "a road that crosses through the center of classes," she said. Biller said they "would've tried to go around, but there's not really any other way."
"The whole campus was really disturbed," Biller said. "After the fight broke out . . . I was talking to people that were saying how they didn't even feel safe walking to class because they didn't want to cross [the road]."
Biller told The Fix that the pro-Palestine protestors chanted "you're supporting genocide" and that the counter-demonstrators chanted back, "you're supporting terrorism."
"You guys will be f––ing exposed one day, you guys will see!" one pro-Palestine demonstrator can be heard saying through a megaphone to pro-Israel counter-demonstrators. "Our tax money pays for your living, how dare you!"
They later led other demonstrators in chanting "Free, free Palestine."
According to an announcement issued that evening by Tulane, three students were assaulted and several arrests were made by the "approximately 40" officers present.
"We condemn and are outraged by today's violence and the hateful language and rhetoric we heard," the university stated. "It's counter to everything we stand for."
The university wrote that the rally was "not approved in any way" by Tulane, and "outside disruptors" were present.
Tulane has not responded to Thursday inquiries from The Fix for general comment and whether they knew of any outside organizations that were involved.
University President Michael Fitts, in an email to students' families shared with The Fix by a recipient, wrote that the assaults were "disturbing."
"As a parent, I know how scary it can be to get this kind of news," he said.
Tulane's undergraduate student body is 43.7 percent Jewish, according to Jewish student organization Hillel International.
The individuals arrested at the brawl have not been identified; however, Jewish Voice for Peace (JVP)'s New Orleans chapter posted an Instagram story claiming one of its members had been "taken into custody."
The rally, announced by organizers Tulane Students for Palestine on Instagram Tuesday, "demand[ed] that Tulane condemn genocide, divest from Israel, and protect Arab students."
The announcement included instructions for demonstrators, including to "stay non-violent," "wear a mask," and to "stay off Tulane's campus." The account also posted a map of where to meet opposite the street from a Tulane fieldhouse, with instructions not to enter the street.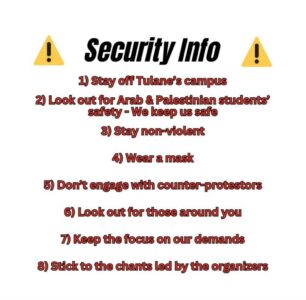 The Tuesday announcement included the logos of student-run clubs, including JVP New Orleans, Abolish TUPD [Tulane University Police Department], Cops off Campus, Students Organizing Against Racism, and the university's Muslim Students Association.
Tulane Students for Palestine, Abolish TUPD, Students Organizing Against Racism, and the Muslim Students Association have not responded to Thursday email inquiries from The Fix about their involvement in organizing the event, and Abolish TUPD has not responded to messages to their Instagram account.
Abolish TUPD tweeted Tuesday that it was "proud to stand with" these organizations in "endorsing" the rally.
Hillel International at Tulane and Tulane Jewish Students have not responded to email inquiries regarding their positions on the rally and who organized the pro-Israel counter-protest.
Tulane has issued multiple statements regarding the Israel-Palestinian War since the October 7 surprise attack by Hamas on Israel. On October 12, President Fitts put out a statement condemning the attack as "terrorism" and described the war as a "tragic loss of innocent civilian lives, both Israeli and Palestinian."
A vigil for Israel was organized Oct. 18 by The Jewish Federation of Greater New Orleans, less than five miles from the scene of Thursday's rally.
Tulane Students for Palestine announced in a Thursday Instagram story that they "will see you all again next week. Free Palestine."
Editor's note: Drew Biller is the sister of the author.
MORE: Students for Justice in Palestine plans 'Day of Resistance' celebrating anti-Israel violence
IMAGES: @Ryanzamos/Instagram; @Tulane4Palestine/Instagram
Like The College Fix on Facebook / Follow us on Twitter