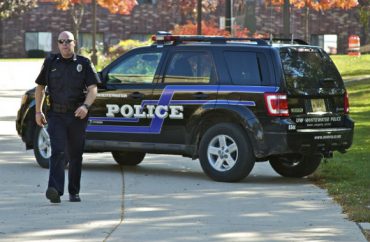 Four young men have been arrested for the brutal beating of Sylacauga High School (Alabama) student Brian Ogle.
Ogle, who is white, had supported law enforcement in a social media scuffle regarding Black Lives Matter. He was jumped by the (black) quartet in a parking lot following the school's homecoming game on September 30.
The 17-year Ogle suffered a fractured skull in what his mother deemed a racially motivated attack.
Three of the four were arrested on the campuses of Stillman College and Auburn. The fourth was picked up in Sylacauga and is the 18-year-old son of a local councilwoman.
Quartez Lamar Walker, 20, was charged with assault in the first degree and was being held on a bond of $20,000 Tuesday night. Bobby Ronchea Brown, 19; Landah Grant Ealy Jr., 18 and Daveon Shamareya Nix, 20, were each charged with assault in the second degree and given bonds of $15,000.

Nix is the son of Sylacauga District 2 City Councilwoman-elect Tiffany Nix.

MORE: In alleged racial attack, white HS student beaten after supporting police

Talladega County District Attorney Steve Giddens said Tuesday that Walker was facing the more serious charge because he believed the evidence to be that Walker was the only one who was armed at the time of the assault. The other three are accused of causing serious physical injury without a weapon. Those charges may change when the case is presented to a grand jury, however.

Giddens added that he believed Walker was armed with a handgun, which he allegedly used to strike Ogle in some fashion.
The four are reported to be former Sylacauga HS students. Sylacauga Police Chief Kelly Johnson said there is no evidence that any current students were involved in the attack.
The DH reports that Councilwoman-elect Nix had said last week that "children do what they see their parents do."
MORE: Student who criticized college race protests finishes school at home due to threats
MORE: Campus #BlackLivesMatter tears down #BlueLivesMatter display same day cops shot
Like The College Fix on Facebook / Follow us on Twitter
IMAGE: UWW ResNET/Flickr
Like The College Fix on Facebook / Follow us on Twitter