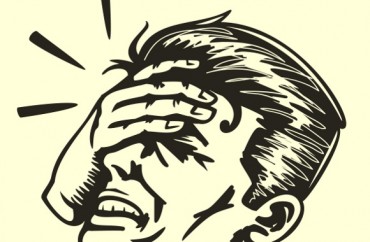 The media spotlight has been directed at higher education antics and hysteria this week, uncovering so many stories of craziness we literally cannot keep up with them all.
But there's a few that stand out from the crowd for being so ludicrous your head may literally ache after reading them.
College students are living up to all the names they've been called this week.
Exhibit A: Protest supporting black students canceled because it was organized by white students. 
MRCTV reports:
An organized protest at Cornell University supporting racial equality has been canceled after a black student group complained about the "lack of people of color in the planning and attendance" of the event, which appears to have been organized by a white student.
Exhibit B: Student government bans 9/11 remembrance because it would make campus "unsafe."
Campus Reform reports:
The undergraduate student government at the University of Minnesota-Twin Cities rejected a resolution for a moment of recognition on future anniversaries of the September 11, 2001 terrorist attacks. … "The passing of this resolution might make a space that is unsafe for students on campus even more unsafe," said [a student government representative].
Exhibit C: Student government shuts down campus group that wants to cheer up dying people because they don't like the club's name.
The College Fix reports:
A student proposal at Pitzer College to start a DreamCatchers club to cheer up terminally ill hospice patients was "tabled indefinitely" by the school's student government after its members expressed concerns that the term "dreamcatchers" was a form of cultural appropriation toward Native Americans.
Exhibit D: Asian student shamed and silenced for saying "black people can be racist" and asking her peers to look beyond skin color to see people's hearts.
The Daily Caller reports:
An Asian student at Claremont McKenna College in Claremont, California, was shutdown in mid-speech during a campus protest Thursday, when she said that "black people can be racist."
Here's the video:
Like The College Fix on Facebook / Follow us on Twitter