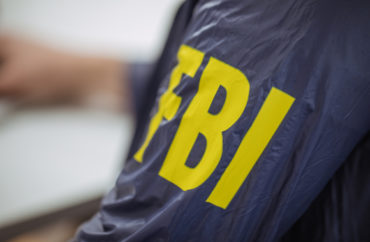 Multiple messages over several months have appeared there
Multiple law enforcement agencies, including the Federal Bureau of Investigation, are helping a public Maryland university investigate several instances of racist graffiti on its campus, incidents which have occurred over the course of several months beginning in the fall.
Charles Wight, the president of Salisbury University in Maryland, posted on the school's website on Wednesday that the FBI was "assisting with vandalism investigations" on the Delmarva campus. The school has seen multiple graffiti incidents since October, beginning with at least two racist messages scrawled onto a wall of the campus's Fulton Hall.
"Since last semester, SU has been working with the FBI's Baltimore field office, as well as local allied law enforcement agencies, as part of the investigation," Wight wrote on the school's website. He noted that university community members "may be contacted by FBI agents or other law enforcement officials, or see them on campus," and called for "full cooperation in providing any information they may need."
School won't say why so much law enforcement is involved
Reached for comment, campus spokesman Jason Rhodes didn't offer much information about the latest incident, stating that the university was "unable to comment on the specifics of an open investigation." He confirmed, however, that federal investigators were involved in the case.
"It's not uncommon for the Salisbury University Police Department to work with allied agencies. In this instance, the SUPD also is working with Maryland State Police, the Wicomico County Sheriff's Office and the Salisbury Police Department, as well," he said.
Asked how often such multi-agency investigations take place, Rhodes said it "would be difficult to quantify how often any allied agency is involved in investigations at SU beyond saying 'as needed'."
"Generally speaking, requests for assistance normally come from the investigating agency, in this case the SU Police Department, and not the other way around," he said.
"Regarding the number of law enforcement agencies involved, most agencies in our area, including the SUPD, have mutual aid agreements, so multi-agency investigations are not uncommon either on or off campus," he added.
Rhodes did not clarify what about the case compelled campus police to ask the FBI to help investigate it. When asked, he said the school does not possess photographs of the most recent graffiti. "We saw them on social media at the same time as everyone else, and the graffiti has since been removed," he said.
Latest graffiti appears to reference Black History Month
On Wednesday the campus chapter of the NAACP posted what appeared to be an image of one of the most recent graffiti incidents, this one in the school's Henson Hall. "It's hang a nigger month," the graffiti read in part, a racist apparent reference to February's status as Black History Month.
We have been made aware of an incident that has been reported in Henson Hall. We will update you as updates are made available. Please be advised the second image contains racist language. pic.twitter.com/5HLLd42ciw

— Salisbury U NAACP (@NAACP_SU) February 19, 2020
Local media reported yesterday that shortly after the discovery of that graffiti, a second vandalism was discovered in the campus's Fulton Hall. That's the same campus building where multiple racist writings, including an apparent threat that referenced the Sandy Hook massacre, were found in October and November.
After the incidents in the fall, President Wight proposed several measures to address what the school called "concerns about bias, discrimination and safety on campus," including new mandatory diversity training as well as possible diversity-based curriculum revisions.
Following this week's discoveries, Wight announced on the university's website that classed on Thursday would be cancelled in order to allow for a "day of healing."
"Support services offices, including the Counseling Center, Office of Diversity and Inclusion, and Multicultural Student Services Office will remain available throughout the day. The campus also will have an increased police presence," he said.
Nearly four years ago the school was thrown into turmoil following a racist drawing found in the school's library. It was later revealed that the students who drew that racist imagery were black. No criminal charges were filed in that matter.
MORE: Black students behind racist drawing at Salisbury University library
IMAGE: dzeat / Shutterstock.com
Like The College Fix on Facebook / Follow us on Twitter