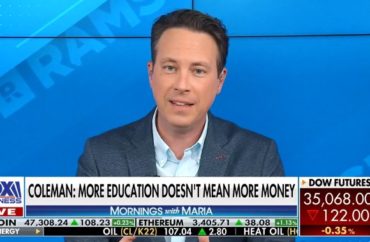 Says 'technology schools are exploding'
A radio host and career coach said that a four-year degree is not necessary for many jobs.
Some students who are going to a trade or technical school are making more money than peers with undergraduate degrees.
"Technology schools are exploding all across the country," Ramsey Solutions personality Ken Coleman (right) told Maria Bartiromo on Fox Business recently. He said people are starting at a "much greater salary" after a program that can take just months.
"The reason is people are starting to figure it out," Coleman said. "'This is what I want to do, and I can get there faster, and I can spend a whole lot less money in getting the ticket to do that,'" Coleman said some people are saying to themselves.
Coleman said people should consider if a college degree is the best and only way to get to where they want to be professionally.
The career coach referenced a Georgetown University study that found thirty percent of colleges are not worth the cost.
He predicted higher education would become "less relevant" for many potential students as time passes, unless colleges change their approach.
"As time moves on, I think over the next five to seven years, I think higher education is becoming less and less relevant as it relates to just 'getting me the job I want," Coleman said.
Bartiromo said there is a "heightened demand" for trade schools, as many construction companies are looking to fill openings.
Coleman shared an example of a story of a Washington State student who went to welding school and worked three days a week on the job while taking classes. He started making 50K a year, Coleman said.
The long-term trajectory for someone like this could include creating a successful small business and becoming a millionaire, Coleman said.
"They started out at 18, 19, 20-years of age, they saved their money and they're winning big," the radio host and career coach said.
MORE: 'You don't need college to succeed,' rising star national reporter says
IMAGE: Fox Business
Like The College Fix on Facebook / Follow us on Twitter