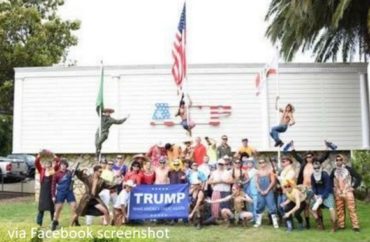 Here's the formula: Do something fun and silly. Post a picture of it online. Get called out by peers who are so, so, so offended. Tuck your tail between your legs, say sorry, and promise never to do it ever again.
The latest iteration of this hails from Cal Poly San Luis Obispo, where a frat has issued an apology for taking a group picture touting a "Trump: Make America Great Again" sign and costumes with a good ol' boy vibe.
At least, that's part of it. It's hard to really determine the theme of the end-of-the-year photo, an annual tradition. There's a cowboy, an Indian, some sombreros, a guy in a bathrobe, another with a weird white beard, another in some sort of badass tiger-face onesie, a hillbilly, more overalls, a fake rifle, a bizarro yellow chicken face mask and more. Whatever the theme, it was clear these guys were having fun.
The picture made its way to Old Row, a twitter account that posts fun, and sometimes NSFW, Greek Life-inspired images. It was posted with the zinger: "Not everyone in California is a commie."
Not soon after, indignant Social Justice Warrior peers who have nothing better to do than police social media accounts and worry about what stupid costumes others are wearing and get offended by everything except people being literally blown up and held hostage as sex slaves in other countries expressed their outrage.
Cal Poly's Alpha Gamma Rho, of course, has now apologized for the "unintentional harm" they caused and promised to never, ever culturally appropriate ever again. They've worked to scrub the photo from the Internet (good luck with that). And they even pledged to undergo some training in "social justice, diversity and inclusion," according to a message the group posted on its Facebook page.
MORE: Stop calling the frat Christmas card with Beyonce sex doll 'racist'
It's not a stretch to think the chapter's national leaders and local ones too probably pressured these Cal Poly rabble-rousers to beg forgiveness.
It would be nice if someone finally had the guts to tell campus Brownshirts to pound sand and get a life. But Greek Life is under too much pressure to lead that cause, unfortunately.
Remember, Greek Life is under attack for being "colonial, bourgeois, patriarchal structures, founded to preserve the reproduction of elite classes."
Meanwhile, even a Cal Poly spokesman admits that the Alpha Gamma Rho chapter technically did nothing wrong in an email to the Mustang News campus paper. Although the frat has had a talking to from the university's Greek Life leaders and dean of students, the spokesman added: "The photo was reviewed for any possible conduct violations by the fraternity chapter and members, and no violations were identified."
MORE: UChicago fraternity has video of vandal who spraypainted 'RACISM' on its house
MORE: FIJI refuses to change its 'racist' nickname
Like The College Fix on Facebook / Follow us on Twitter
h/t: Mustang News
Like The College Fix on Facebook / Follow us on Twitter