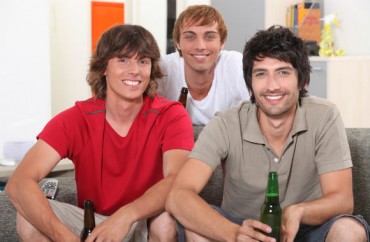 UPDATED
Fifth Amendment rights recognized, too
Indiana University-Bloomington Greek organizations have beaten back an administration proposal to search their homes without a warrant – but they had to convince some older alumni to join their cause.
They got "95 percent of what they wanted" in a new housing contract, including explicit recognition of their Fourth Amendment rights, a recently graduated fraternity leader told The College Fix in a phone interview.
A few older alumni cited the adage "If you have nothing to hide, there's nothing to worry about" to defend the original language, said Matt Shute, who led the fight as president of IUB's Tau Kappa Epsilon chapter last year.
MORE: Frat houses could be searched without a warrant under IUB proposal
Redlined versions of IUB's new agreements with "housed Greek organizations" and their house corporations show that the administration must meet stricter requirements to enter and inspect Greek houses than originally proposed.
In a complete reversal, the school is not allowed to conduct "environmental health inspections" unless specifically requested by an organization or its house corporation – and IUB will pay for it.
From 'shouting matches' to generational divides
Now the managing member at Gamma-Kappa Housing, which runs the Tau Kappa Epsilon fraternity house, and the chapter's live-in adviser, Shute had threatened "extensive legal action" against IUB if it tried to impose the initial contract on Greek organizations.
The "fraternity and sorority addendum" had granted "University officials, including IU Police Department officers," the right to "enter and inspect all rooms" – common areas and private spaces – "at any time and for any reason." Greek organizations would have lost their recognition without signing.
Self-Governed Student Organization Agreement: IUB Fraternity and Sorority Addendum by The College Fix on Scribd
After several meetings and negotiations with the administration, Greeks obtained several concessions in their favor. Shute said the process started late in 2015 and was the subject of several town hall meetings, which "delayed the process."
Shute characterized the first meetings with the administration as little more than "shouting matches," but became more civil as time went on.
MORE: Independent fraternities tell U. of Colorado: Talk to the hand
The Alumni Interfraternity Council (AIFC) strategy meetings that Shute attended were composed of "mostly middle aged and older men," with three or four recent grads and representatives from the national North-American Interfraternity Council present as well, he said in an email interview. The age distribution was similar at the town hall meetings with fraternity and sorority members.
"About three" older members felt more comfortable with the search-for-any-reason language – the "vast majority" who supported that language were "university employees, parents, anti-fraternity students, and Bloomington community leaders," Shute said.
But younger members and other alumni insisted that their constitutional rights be respected in any contract.
"We emerged from those meetings as a unified front," he wrote. "A preemptive rebuttal to that assertion was also brought up at the town halls in order to disarm it before it could be used against us."
MORE: Don't say 'Greek life' because it's cultural appropriation
Shute gave The Fix his recordings of an Aug. 21 town hall meeting attended by university, fraternity and sorority representatives.
The most recent AIFC meeting minutes posted online are from 2013. AIFC President Bill McGinnis did not respond to Fix inquiries.
Inspections for 'relevant parts' of the house only
The new contract recognizes new roles for house corporations that aren't mentioned in the original draft. The redline version indicates the original contract was supposed to start Aug. 31, but the new effective date is Sept. 30.
The most problematic part of the original contract for Greek organizations has been completely removed. It had read:
Beginning with the agreements for the 2017-18 academic year, the following language must be included in the housing agreements with each member of the HGO:

"[Tenant] agrees that the premises of the house, including all common areas and private spaces, are subject to inspection and/or search pursuant to the terms of the Agreement for Housed Greek Organizations."
Agreement Between Indiana University-Bloomington and Housed Greek Organization (redlined) by The College Fix on Scribd
MORE: Black student leaders threaten to burn down fraternity house
The final version changes the order of one key section, putting students' Fourth Amendment rights in front of IU police's right to search private rooms without notice in an "emergency." It also for the first time explicitly recognizes students' Fifth Amendment rights under the enforcement section.
The new contract only lets the university conduct a "general" environmental health inspection "if requested" by the house, and specifies that the university will pay for it.
It only requires Greek houses to register social functions that let in "non-members," and specifies that the decision to allow or ban alcohol in the house rests with the house, its national organization or house corporation. The contract prevents the university's insurance office from "unreasonably" withholding its approval of a house's contingency plan.
MORE: Fraternities forsake their 4th Amendment rights
Personnel from environmental and insurance offices may only inspect "relevant parts" of the house, and only private rooms "if necessary," according to final changes to the contract. The only role left for the environmental office – without being first asked by any given house – is annual "kitchen inspections."
Contract language that gives the university the power to unilaterally close down houses "to protect the health and safety" of residents – and protect itself from liability when it does so – has been removed.
Agreement Between Indiana University-Bloomington and Greek House Corporation (redlined) by The College Fix on Scribd
'The struggle to defend our rights is perpetual'
Shute said the gains that Greeks made in negotiations "far exceeded our initial expectations," especially considering they never had to take "the legal route."
They secured contract language "consistent with the Fourth Amendment" when it comes to using evidence obtained from investigations in disciplinary actions.
He fought so hard for a revised contract because it is "up to us as alumni and undergraduates to always keep our eyes peeled." Shute said that he wouldn't characterize the new contract as a "win," because "the struggle to defend our rights is perpetual."
CORRECTION: Only a few older alumni defended the original language of the contract that allowed searches for any reason, Shute told The Fix after publication. The "vast majority" of support for that language came from outside Greek circles. The article has been amended accordingly.
MORE: Fraternity under investigation for wearing sombreros
Like The College Fix on Facebook / Follow us on Twitter
IMAGE: auremar/Shutterstock