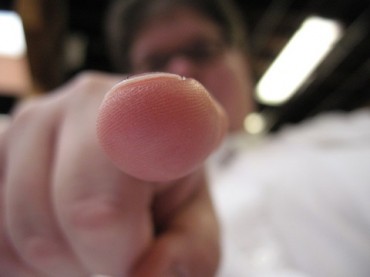 The Arizona State University chapter of the Tau Kappa Epsilon fraternity has had its charter permanently revoked by university administrators in response to a controversial party it hosted, campus officials announced Thursday.
The fraternity threw a "MLK Black Out" party on Jan. 19. Pictures depicting partygoers drinking out of watermelon cups, wearing basketball jerseys and flashing gang signs found their way onto social media outlets, prompting a firestorm of outrage among some in the campus community and nationally.
Campus officials said the party "encouraged a racially-insensitive theme and created an environment conducive to underage consumption of alcohol."
This wasn't the first incident that the university disciplined TKE for, prompting the university to issue a harsher punishment this time around, administrators explained.
The party also violated university rules by including alcohol, risking the safety of students, and engaging "in discriminatory activities, including harassment and retaliation, as prohibited by applicable law or university policy," campus officials stated Thursday.
In their announcement, administrators also cited the party's theme in the context of its proximity to the observance of the Martin Luther King Jr. holiday as cause for action.
"ASU has one of the most diverse student bodies of any major university in the country, and it is unfortunate that a few individuals held an offensive party at a time when ASU, the state and the nation were celebrating Dr. King's achievements and legacy," ASU President Michael Crow said in a prepared statement.
The decision to revoke the charter permanently comes on the heels of its suspension earlier this week by campus officials.
Although some observers have said campus officials overreacted and infringed on students' First Amendment rights, as the frat party was not held on campus nor was it a university-sanction event, administrators, in their announcement, argued that "when students gather as part of a university recognized organization, whether it is a varsity sports team, the student newspaper, an academic club or a fraternity, students are expected to conduct themselves in a manner that reflects the core values of ASU, which include respect for all people, races and cultures."
The university may pursue further disciplinary action and "is continuing to investigate the actions of individual fraternity members and other students who may have attended the party under the ASU Student Code of Conduct."
"Teaching and nurturing integrity within our diverse university community is a significantly complex challenge, but one to which we are wholly and unwaveringly committed," Crow said.
Those who do not uphold that standard of integrity "will be subject to disciplinary sanctions in order to promote their own personal development, to protect the university community, and to maintain order and stability on our campuses," he added.
College Fix contributor Julianne Stanford is a student at the University of Arizona.
IMAGE: A2gemma/flickr
Like The College Fix on Facebook / Follow us on Twitter